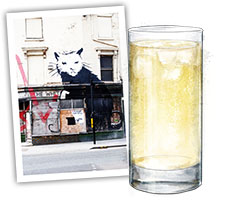 Because apparently there aren't enough stray cats already in New York, a charity has decided to import them from the streets of Puerto Rico, where they were probably happily sleeping in the sun and catching mice until netted and captured.
Some of our friends have recently adopted one such cat, a wide eyed tabby who climbs like a mountain goat and spends all night stalking their feet under the covers.
Sleep deprived and wretched, Ronnie related this experience only to find that everyone listening had their own cat tale of woe to add to the mix: Demitri, whose new kitten woke him up at 4 am to proudly show off a cockroach that he had maimed and was playing with. Alex, who woke suddenly to discover her kitten hanging from her ear with one claw through the hole where earrings usually go.
"You just don't get this kind of nonsense from dogs," said Sara, who has recently been borrowing her neighbor's beagle Clive to take to the dog park and troll for cute men. So far, slim pickings. "I probably need to take him out somewhere that isn't The Village and or Chelsea."
Enter the Bulldog, which in spite of the name, actually puts a more mellow perspective on just about everything.
Bulldog (per glass)
1 measure gin (2 oz)
Juice from ½ lemon
1 tsp simple syrup (which you can make by simmering a cup of water and a cup of sugar until the sugar dissolves)
Ginger ale
 
Shake the gin, lemon and syrup over ice and pour into a highball glass
Top up with ginger ale