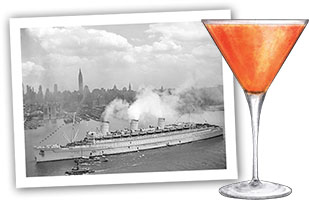 Spring cleaning does have its benefits – I've recently inherited a feather cape from my mother in law who is heavily into organizing the cupboards.
It belonged to her mother, who, I gather, spent quite a bit of time in the roaring 20's living it up on cruise ships and being terribly glamorous. This is exactly the cape that you would be wearing if that's what you were doing.
It's transforming. All soft ruffling feathers and slinky satin lining. You could sit on the sofa watching Amazing Race and eating tinned spaghetti cold from the can in that thing and still feel like a silent era movie star. Such is the power of fashion.
For me, cocktail glasses hold a similar magic.
I buy them at markets and Housing Works and from yard sales – all slightly mismatched, but all lovely. One has polka dots. One is Venetian with a blue swirl. I just think they are beautiful. They make drinks special. So here I will admit to a private excentricity – drinking my morning orange juice out of a martini glass.
Better still, a cocktail glass with a cocktail in it. This herbal, slightly bitter orange concoction is sort of Deco-ish drink that can turn a ho hum evening around from sleeping in front of America's Next Top Model, to, well, the night is young, who can tell.
Campari and Orange
1 tbsp simple syrup or 1 tbsp brown sugar (to make a Campari orange passion)
¼ cup fresh orange juice
1 measure Campari
Seltzer
Ice
 
Shake the syrup, orange juice and Campari with the ice and strain into a cocktail glass.
Top up with seltzer and garnish with an orange wedge
Crispy Stuffed Olives
Now it's a cocktail hour!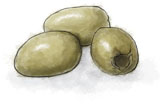 20 large green olives (pitted)
1/3 cup ricotta (at room temp)
2 tsp lemon zest
Salt and pepper
1 egg
½ cup flour
½ cup breadcrumbs (Panko crumbs are especially delicious)
Vegetable oil for frying
 
Rinse the olives and dry well
Mix the ricotta with the lemon zest and season well. Scrape into a piping bag )or a zip lock bag with the corner snipped off) and pipe into the olives
Tip the flour and breadcrumbs onto plates. Crack the egg into a bowl and whisk it up
Drop the olives into the flour and toss to coat. Transfer to the egg, then to the crumbs, making sure each olive gets a good coating
Heat up a few inches of oil in a heavy pan until it's 350f – a cube of bread should brown in a minute or so. Carefully lower a few olives at a time into the oil. Turn them to make sure they're cooking evenly. They'll rise to the top of the oil and be cooked in under a minute.
Drain on kitchen towel, allow to cool a little and serve
If You Can Make That You Can Make This
Add some soft blue cheese to the ricotta mixture
Or ditch the ricotta altogether and use only Gorgonzola – this version is a classic bar snack served all over Venice
Bread and fry olives that have already been stuffed with anchovies or pepper