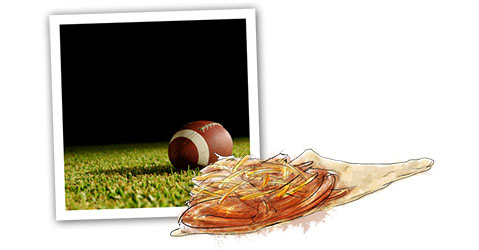 As Superbowl approaches, thoughts turn to burgers, mac n cheese, pizza, oh, and football of course.
This year's game is a rematch of the one Jon and I watched years ago in the small hours of the morning in a fairly faceless businessman-type hotel bar in Warsaw, with plenty of strong Polish beer, and a grassy garnish of dill all over the nachos. I won some money – 50 bucks – something like that, betting on a New York victory against the odds, and, delirious with success and junk food, I danced to Europop until the hotel cleaners arrived for their morning's work and kicked us all out.
Who knows how Sunday could turn out. Though odds on, less dill and less Ace of Bass this time around.
So in the spirit of America's biggest eating holiday of the year, may I suggest this spicy cola chicken?
It's got a can of coke in it.
That fact pretty much stands alone.
Slow cooking turns the drink into a surprisingly complex BBQ-style sauce, and the chicken becomes the texture of pulled pork. It's important to use cola rather than diet cola. I tried it once and the chicken came out tasting of chemicals.
I like to turn this chicken into a nacho topping by adding any or all of the following: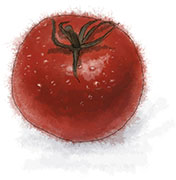 Grated cheese
Sour cream
Chopped tomatoes
Shredded lettuce
A can of drained rinsed black beans
Guacamole
But it makes a delicious sandwich – possibly with a side of coleslaw, and it makes a fairly obvious wrap / burrito / taco filling too. Leftovers can be turned into a great soup – add to a batch of tomato sauce thinned with stock, then add some drained rinsed canned black beans, a spoonful of sour cream, a lot of fresh lime juice and a sprinkling of cilantro.
Spicy Cola Chicken Nachos (serves a crowd – 8ish)
6 – 8 chicken portions, bone in if that's how you bought them, out if not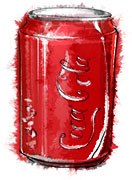 1 can cola
1 small can chopped tomatoes
¼ cup ketchup
2 cloves garlic
1 onion
Nachos (about 2 bags)
1 tsp chili flakes – to taste, depending on how spicy you like food and how hot your chili is. I use sambal olek Korean chili paste, and I use about ¾ tsp for a spicy kick
 
Chop the onion and garlic (I use the processor for speed) and sauté in some olive oil until soft and starting to brown
Add the chili and ketchup and stir into the onion mixture. Add the chicken and stir to coat
Pour the coke and tomatoes over the chicken then put the lid on the pan and put it in the oven at 300f for 2 hours
Turn the chicken – if it's too dry add a splash of water – then put the lid back on and cook for at least another hour, up to 2, until the chicken is soft and almost BBQed
Shred with 2 forks discarding any bones
Heat the nachos through in the oven for 5 mins, then arrange in a bowl
Top with the chicken, cheese, sour cream, chopped tomatoes, shredded lettuce, drained, rinsed black beans and guacamole as desired
Guacamole
There's a restaurant near where I work called Rosa Mexicana. It specializes in frozen pomegranate margaritas and nachos with guacamole. It's basically awesome. So committed is this restaurant to avocado freshness, that it employs a guy to wheel around a specially designed trolley, and make guacamole to order in a huge and impressive stone pestle and mortar. Somedays I find myself sitting at my desk fantasizing about chucking it all in and becoming a guac trolley woman, but that's for another day.
Guacamole is controversial. Firstly, it contains one of the most controversial herbs in existence – people either love or hate cilantro and there's nothing to be done about it. And people have strong opinions on tomatoes versus no tomatoes, onion versus spring onion etc, depending on whether they've been on holiday to Cancun recently, and what was served in the hotel bar.
My advice? Make what you like.
I like de-seeded tomatoes, light oniony tang, lots and lots of lime. Plenty of salt. Adjust accordingly to your taste.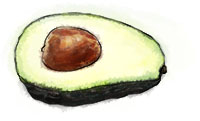 3 avocados (ideally Hass 

avocados

)
2 limes
1 clove garlic
1 tsp salt
2 plum tomatoes
2 tbsp chopped chives
1 bunch of cilantro (coriander) – about half a cup chopped
 
Squeeze 1 and a half limes into a bowl and add the salt. Stir to dissolve
Grate in the garlic and add the chives
Slice the tomatoes in half and squeeze out the seeds. Chop into thin strips and add to the bowl
Halve (carefully) and de-stone the avocados, then scoop out chunks with a tsp into the bowl. Mash everything with a fork into a chunky paste. Taste – and maybe add some more lime juice
Stir in some of the cilantro, and use the rest to garnish the guacamole
If You Can Make That You Can Make This