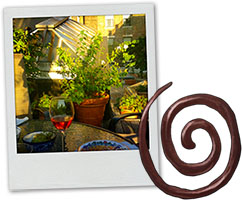 If you do something that can be vaguely classified as creative – in my case, writing – for a living, sometimes it's good to put aside all practical concerns and embrace the idea that creating can be an end unto itself. "L'art pour l'art."
It's a Bohemian philosophy that I've been considering this weekend, mostly inspired by a night of rosé wine, wild strawberries and chat on a Soho rooftop above an incredible loft apartment crammed with art and sculpture.
My friend John is plant-watering and cat-feeding, and this was an obvious perk. We sat in rocking recliners talking about nothing in particular, watching the sun sink over West Broadway.
"I'm going to give up my job and my apartment and travel for 6 months," he decided. "There's no plan, just travelling. That's the whole thing."
"Perhaps I should give up the idea of buying real estate in New York and look for a cheap lemon farm in Italy," said Jennifer.
And instead of cooking real, practical actual food for dinner, I pottered around in the kitchen creating elaborate swirls out of chocolate.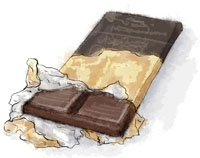 Nobody needs a bite-sized chocolate sculpture in their life. Pot au chocolate, or mini Pavlova, or salted caramel pie, or cup cakes are all perfect, complete and beautiful just the way they are, no adornment necessary (and yes, I am implying that these things are necessary. So sue me.)
A chocolate swirl is cooking for its own sake. Pure frivolity and adornment. Or the purest form of art. Discuss. Preferably in French.
Drinking in the vicinity of a probably genuine Miro all night will do this to a girl.
2 bars of good quality chocolate
wax paper or slip mat
 
Melt 1 bar of good quality chocolate gently over a low heat, or in the microwave
Chop the second bar and stir into the melted chocolate off the heat. It should melt in smoothly. If it doesn't heat gently again until it just melts – the idea is to keep the temperature as low as possible so the chocolate doesn't go cloudy. Basically this is a cheating method of tempering, which keeps the chocolate glossy
Put the chocolate into a piping bag with a very very tiny nozzle, or into a plastic bag and snip off the tiniest corner (you can always make it bigger, but you can never make it smaller)
Pipe shapes onto waxed paper – if you have a steady hand just go for it, if you don't (like me), draw shapes on the wax paper with a pencil, then turn the wax paper over so that the chocolate never touches the lead. Make more than you need to give you some breakage leeway, especially if you're piping a delicate shape
Let the chocolate cool on the counter, then chill in the fridge
Once the chocolate is set, take the shapes off the paper by peeling the paper from the chocolate, not the chocolate from the paper – it's much less likely to break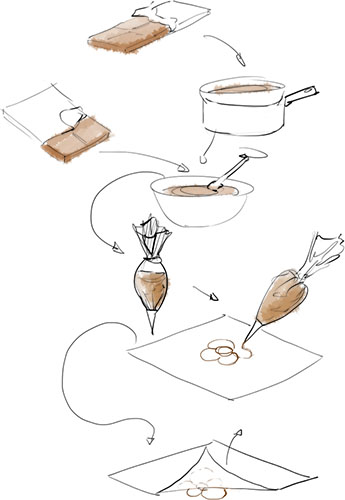 Shape Ideas
Letter and or numbers for birthdays
Treble clefs for music lovers
Spirals for transcendentalists
Hearts for valentines
Flowers and butterflies for epicureans
Stars for cosmologists
Lightening bolts for fatalists
Lewd body parts for hen parties