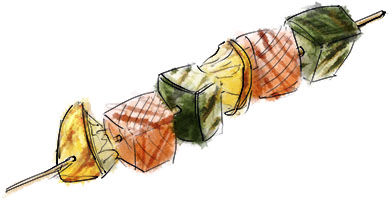 You only need to remember that British Mother's Day is about a month earlier than American Mother's Day the day before British Mother's Day once, and you pretty much have the date seared into your conscience after that.
Father's Day, is thankfully synced up, and much easier to remember. I had this under control. A few clicks on Amazon and I was sorted.
And I was feeling pretty pleased with myself until  my sister called to tell me that her boyfriend Matt had arranged to take my dad to watch cricket at the Oval.  That kinda beats a book.
When he heard this, Jon sighed. "Thank God I can fix the family computers."
So I was thinking about my Dad, grilling aficionado, when I started planning this weekend's BBQ on the balcony, our first one of the year when the weather finally cooperates by being neither way way to hot to be without air conditioning and close to fire, and also not thundering with rain.
Honestly, I was looking for the excuse to put my souvenir-from-the-souks-of-Istanbul-skewers to work.  I just love them. Mostly I keep them in a vase in the kitchen and admire them.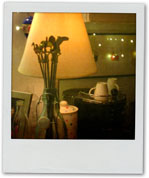 My sister and I bought them from a stall at the beginning of the day – a big mistake it turned out, since they poked through the plastic bags and stabbed us as we walked. My Dad, bored with shopping, took the bags – many bags – from us and packed them into his little backpac, with the ends sticking up out of the top of the drawstring. He would go for a walk and meet us back at the hotel, he said, setting off happily in search of an historic mosque and a cup of coffee. We watched him go, little brass animals glinting above his head like a tiara.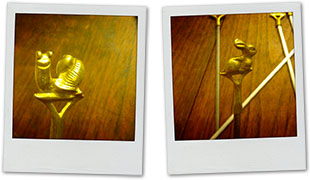 Pesto Salmon Skewers with Lemon and Zucchini
For the first time this year, the balcony has yielded a crop that we can actually use; basil is growing like a weed out in the hot Manhattan sun, and basil means fresh pesto.

You make pesto by putting two large handfuls of basil into a processor, adding 2 crushed cloves of garlic, 1 handful of Parmesan, ¾ handful toasted pine nuts and some salt and pepper, then pouring light olive oil down the blender tube until you have a vivid green sauce. There's a proper recipe here.
4 salmon fillets
2 zucchini
2 lemons
¼ cup fresh pesto
2 tbsps olive oil
Salt and pepper
 
Heat up the grill (or the griddle pan)
Cut the salmon into 1 inch cubes and place in a bowl with the pesto and olive oil. Season well and let the fish marinate for five to ten minutes
Half the zucchini and cut into 1 inch cubes (about the same size as the salmon), Cut the lemon in half then into 1/4s lengthwise, and across into 8ths
Thread the skewers alternating lemons, skewers and salmon. Brush the left over marinade onto the skewers, then grill for 2 – 3 minutes per side until the outside of the fish is charred
Couscous Salad with Roasted Tomatoes, Pesto and Olives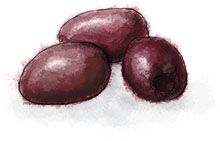 1 ½ cups couscous
1/3 cup pesto
1 pint cherry tomatoes
½ cup pitted kalamata olives
½ cup pine nuts
Large bunch basil
Olive oil
Salt and pepper
 
While the kettle is boiling pour the cous cous into a bowl. I cook mine by pouring over the same amount of boiling water, covering with plastic wrap and leaving for 10 minutes before forking to fluff up – check your packet to see if this will work for you
Meanwhile, preheat the oven to 450f
Toss the cherry tomatoes with the pesto, about 2 tbsp of olive oil. Season well and roast for 15 minutes
Top the cous cous with the tomatoes and pesto, add the kalamata olives
Toast the pine nuts (they only take a minute, but keep a close eye on them because they burn very quickly). Add to the cous cous and tear over some basil
Serve hot, or warm getting towards room temperature
Turn this dinner into a feast:
Start with a round of seabreezes, add a green salad to the mix, and finish things off with this summer fruit pavlova.