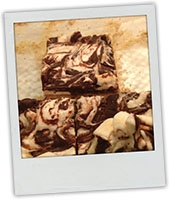 I was a reluctant camper as a child. Bugs, rain, sleeping on the ground – not really my scene. On my return from my first guide camp I sat on the bathroom floor sobbing as ants marched out of my rucksack, begging my parents to never never let me do anything so utterly wretched ever ever again. To their very great credit, they managed not to laugh. But even I had to admit, the bit where we burned marshmallows was pretty fun.  
Jon, sea scout par excellence, had this to say about marshmallow burning:
"As I see it, there are three main methods. One. Heat it up over the flames not in them till the outside goes a bit brown. Two. Set it on fire, (probably the stick too), blow it out and eat it, all black on the outside. Or Three. Set it on fire, blow it out and eat the outside, then set it on fire again. This is the best way."

There's nothing quite like poking a marshmallow onto a stick and holding it in the fire until it burns bright blue and the surface turns caramelized and sticky. Nothing that beats the satisfaction of the perfect toasted-ness – caught just moments before the little pillows of fire melt like Dali clocks, and run, dripping into the fire, then fall, lost forever to the flames.
But neither of us had eaten a s'more until we came to America.
"I don't get s'mores" said my husband. "I don't see how adding a graham cracker to the mix could really improve anything. I guess it's cultural."
But I get it, more than get it. The sandwich aspect, which I love, the chocolate – all good. The only downside, really is that if you live in a New York apartment, you probably shouldn't suggest making s'mores for a party on the rings of your kitchen gas burner, unless you enjoy scraping molten marshmallow off the stove late into the night.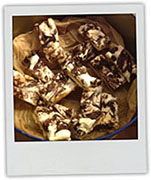 These s'more bars are a tame urban compromise – but they're so delicious that it's impossible to care. You start with a cracker (biscuit) base, cover it with rich toffee, top with mini marshmallows, toast in the oven (I know, cheating, the oven), then top with chocolate. This gooey layer of deliciousness sets into a cake bar something along the lines of millionaires shortbread. Totally moreish, prefect for a picnic, a big hit at the 4th July party I went to where we were asked to put out a citronella candle, so flaming marshmallows would have been right off the agenda.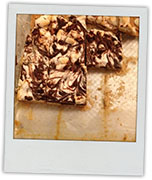 This recipe makes about a half sheet pan of bars – I cut them into square inch ish chunks, which was enough for a 4th July party of 8 with leftovers. This recipe is adapted from one that I found last year on Chow – check it out here. I go for a thicker caramel layer, more chocolate and broiling rather than baking. Their version also includes pecans, which I love, but Jon loves less, so this more traditional s'more is what I go with.
12 Graham Crackers (or a few more if your tray is a little bigger)
1 stick of butter
½ cup brown sugar
½ tsp salt
1 tsp good vanilla extract
3 ½ cups mini marshmallows
1 ½ cups chocolate chips (good quality ones)
 
Line the baking tray with foil leaving a generous overhand so you can use it to lift out the s'mores later. Arrange the cookies in the baking tray to form one even layer – break them into pieces if necessary
Put the butter and sugar into a pan, bring the mixture to a simmer, swirling the pan to dissolve the sugar, then simmer for 5 minutes until you have a deep caramel. Off the heat add the vanilla and the salt and stir to combine
Pour this mixture over the crackers and spread out evenly with a spatula into a thin layer
Scatter the marshmallows on top and put under the broiler (grill) until they are golden brown (or bake for 10 mins at 350f ish)
Scatter the chocolate chips over the marshmallows. Let them sit in the heat for a minute until they start to melt, then use a skewer to ripple the chocolate and marshmallow together
Refrdigerate for an hour to chill and set. Remove from the tray and cut into pieces
If You Can Make That You Can Make This
Add a handful of toatsted pecans to when you add the chocolate chips
Or a handful or two of roasted peanuts (my husband loves this)
Or crushed up slated pretzels
Swap out the caramel for toffee (by adding a tsp of syrup and a can of condensed milk) and you're in Millionaire Shortbread territory
Try making your own marshmallows – messy but really fun
or consider these s'mores chocolate pots – a dinner party friendly version of the classic combo