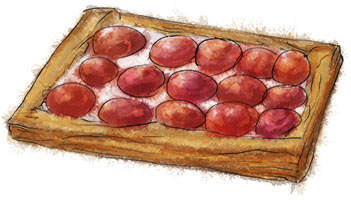 True Romance with a capital R. My friend James has abandoned his Brooklyn apartment, handed in his notice at his job in an office off Union Square, and will move to Paris forthwith, to be with the woman he loves.
He seemed a little apprehensive, sure, "I am going to miss the Japanese food and the burgers, I'm not going to lie," but ultimately confident that he'd made the right choice.
"I can't wait to be there with her. I'm going to spend the summer relaxing, eating great food, drinking great wine, going to French cinemas and running along the Seine," he told us when we asked him whether he would miss New York in the staggering heat and humidity of August, when the city can overwhelm all but the most dedicated urbanites.
Obviously it helps that Paris is involved. You rarely hear of people talking happily about their courageous romantic decision to move to Wigan, for example, or Detroit, however "totally gorgeous, like a model, and stunningly clever and funny and really sophisticated" the person is.
And so in the spirit of French romance, this summery goat cheese peach tart – and for "peach" you could just as easily substitute figs or nectarines or plums or pears – whatever is fresh, ripe and good.
I usually serve this with a salad as a main course (serves 2 – 4) or a starter (serves 6), though add 1 tbsp of warmed honey as a glaze at the end and a sprinkle of slivered almonds and you could call this dessert, and feel terribly sophisticated.
I use store bought puff pastry because I had to make puff at cookery school and life is too short to repeat the experience. I use Pepperidge farm, or Trader Joes own brand – both of which are great, and when I lived in the UK I used Just Roll.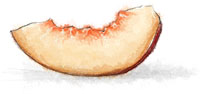 1 sheet of puff – about 8 – 12 oz ish
A log of goat cheese – about 5 – 6 oz
2 tbsp cream cheese
1 tbsp chopped fresh tarragon
1 tsp chopped fresh rosemary
2 tbsp honey
8 ripe peaches
Fresh black pepper
Flour for dusting
 
Defrost some puff pastry either overnight in the fridge or for half an hour – on a hot day – on the counter
Preheat the oven to 450f
Place the pastry on some parchment paper or slip mat and roll to about 10 by 12 inches (about half a cm thick) – this is where you may need a little flour for dusting
Score a border around the edge with a knife – don't cut through, just mark the line, then prong the surface inside the border with a fork
Transfer the pastry on the paper or slip mat to a baking tray and bake for about 5 minutes until it starts to puff and color
Cover your hand with a dishcloth (it's hot) and press down the puffed center to make a flat surface
Mix the goat cheese, cream cheese, honey, tarragon and rosemary together, then spread the cheese mixture on the pastry
Slice and core the peaches and arrange on top. Season with a grind of black pepper (for a savory tart)
Bake for about 15 minutes, until the pastry is crisp and puffed
Serve with an arugula (rocket) salad with plenty of salt and a drizzle of lemon juice and olive oil