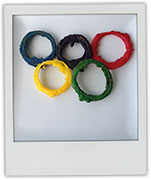 My friend Euan is in the Olympics. Not as a sprinter, gymnast or wrestler, but as an Industrial Revolutionary Worker. "Look out for me. I'm the one wearing a white-ish shirt, standing near a big machine, sort of near the cows."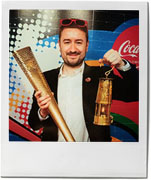 I'm very excited for the Olympics.
I may not be in London with my family, who ALL have managed to score tickets, despite a disappointing initial ballot, but nobody could accuse me of not entering into the spirit, or not being prepared.
I have multiple television options, an iPhone app to watch events while I'm out and about, and a fridge full of cold beers.
2 Olympics ago, I was adjusting to my very first week of living in New York. My Mum and Dad flew over to help me move and settle in, but none of us could make head nor tail of the multiple remote controls needed to get the damn tv to work. We scurried from diners to bars to restaurants all over the city, escaping from the shock of the brutal summer heat, furiously watching repeat coverage of the US Men's football team, and hoping for a scrap of information about how the British rowers were doing.
This is how new to New York we all were; we spent an afternoon at the bar in Applebees Times Square drinking beer and eating onion rings … and we thought they were pretty good actually.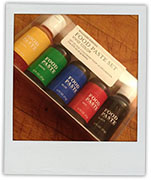 Olympic Onion Rings (serves about 6, depending on the size of the onions)
It is possible to dye batter. I wasn't sure it was going to work at first, but by using food coloring pastes to get a good deep color without adding too much liquid, it worked out like a dream.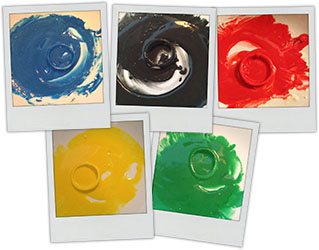 Could there be a better unhealthy tv-bound snack to share at an Olympic viewing party? I mean, seriously? Olympic Onion rings? Seriously.
2 large onions
2 1/2 cups buttermilk (or milk, or soda water)
1 ¾ cups flour (or 1 cup flour, 3/4 cup cornmeal)
Salt and pepper
Red, yellow, blue black and green food coloring pastes (I bought mine at Williams Sonoma in a set that contained all the colors)
Vegetable oil for frying (about 3/4 liter)
 
Slice the onion into disks and press out the rings
Pour the buttermilk into a bowl and add salt and pepper to taste. Dunk the onions in the buttermilk and leave for 10 mins to tenderize, then take the onions out and put them to one side
Add the flour to the buttermilk mixture and whisk to combine. Divide the batter mixture between 5 bowls and color each bowl with a good dab of food coloring
Divide the onion rings between the bowls and dredge to coat in the colored batter
Heat the oil to 350 f in a large pot (or a fryer if you have one). Carefully lower a few rings at a time (don't over-crowd the pan) into the oil and cook for about 2 minutes, flipping them over half way
Drain on kitchen towel and transfer to an oven tray. Keep them warm in the oven until you're ready to serve them, and sprinkle with a little more salt