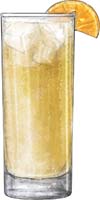 Walking down the midway at the Sussex County Fair, you could hardly fail to notice the booth containing the Headless Woman.
Newspaper cuttings of the "Hollywood starlet looses head in accident but survives!!" variety were posted on boards leading to the ticket booth which noted, "Warning. Oxygen use inside this facility."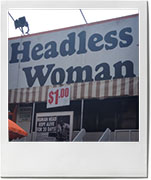 A recorded commentary boomed from speakers; "Imagine that. A woman alive with no head. Make no mistake about it, this isn't Hollywood or a tv show … A woman alive. Her fingernails grow. The hair on her arms grows. Confined to a wheelchair, a woman so unusual that wherever she travels she is the focus of attention."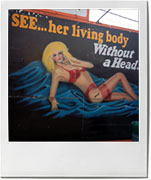 I mean, seriously, how much would you pay to see that?
The ticket girl thought a dollar would be sufficient. I thought that was excellent value. I handed over my money, slipped through the turnstile and walked up to the window to peek inside the booth.
And?
Slip me a dollar and I'll tell you.
Headless Horseman  (per glass)
I looked for a headless woman, I really did, and this was the closest I could come up with. A couple of these while watching the fabulous Olympic Closing ceremony certainly made this woman legless, so that's something I suppose.
We also experimented with a version that muddled fresh mint in with the vodka and bitters, and it was a big hit.
¼ cup vodka
3 drops orange bitters
1 slice of orange
Ginger ale
Ice
 
Put a few ice cubes into a tall glass and add the vodka and bitters. Stir to mix
Top up with ginger beer and garnish with an orange slice