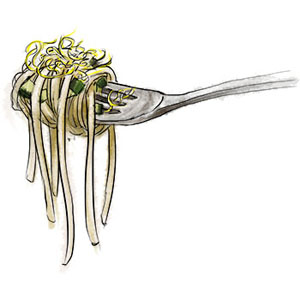 Everybody needs a hobby – for me it's a close tie between magazining and singing. For John, triathlons. For Tabitha, designing dog Halloween costumes and selling them on Etsy. As it turns out, Jon's Boss has a hobby too – albeit a somewhat accidental one – a talent for growing enormous vegetables.
Here's a picture of the zucchini that Jon staggered home under the weight of yesterday.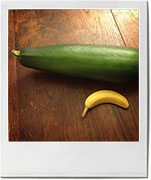 The banana is for scale. Seriously. It's that big. Tell me that's not the kind of vegetable designed to put fear into the hearts of fete contestants in any British village.
"It's got to be a marrow," I said, disbelieving. But it's not. That Glennys had managed to cycle into work with it in the basket of her bike is nothing short of a miracle.
It's impossible to look at this kind of seasonal harvest without feeling lurking metaphors. We plant, we wait, we reap. Sometimes we get enough zucchini to feed a whole Physics department, sometimes, nothing. That's the thing about Autumn symbolism, however fruitful it seems, the flip side always brings a touch of melancholy.
Maybe that's why a carrot growing a nose, or a suggestively shaped parsnip delight us so – now, more than ever, we need the humor.
Penne with zucchini and mint in a lemon cream sauce (serves 2)
2 handfuls of linguini (or whatever your box says is enough for 2, plus a little extra)
1 cup of zucchini diced into cubes – that's about 2 regular sized zucchini
1 tbsp chopped fresh mint
1 lemon
1 clove garlic
½ cup cream
½ cup freshly grated Parmesan
Salt and pepper, olive oil
 
Bring a huge pan of water to the boil, salt liberally and drop in the pasta. Set the timer for 1 minute less than the box recommends to make sure the pasta stays al dente
Heat a tbsp of olive oil in a sauté pan, and toss in the diced zucchini, seasoning as you go with salt and pepper. Cook on a high heat until the zucchini starts to brown and soften
Grate in about 1 tsp of lemon zest and the clove of garlic, then squeeze in a couple of tbsp of lemon juice
Turn the heat to low and add the cream. Season – especially with pepper
Drain the pasta – not too well – some water helps the texture of the sauce – and add to the zucchini pan. Add the parmesan and mint and toss to combine
Serve with extra cheese and plenty of freshly ground black pepper