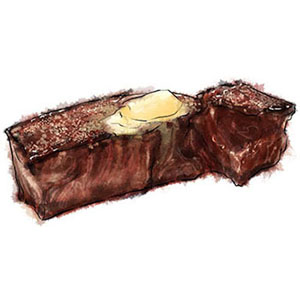 The writing business being what it is, some weeks I am mostly employed as a singer. The bulk of this takes place at St Barts, a glorious gothic-y deco-y castle on Park Ave and 50th. We wear robes. We sing with our music neatly arranged in folders. We process in pairs. We bow. It's pretty familiar Anglican/Presbyterian stuff.
And then, some weeks, we sing jazz.
"I want you to feel like you're standing on Bourbon Street," says Bill the conductor, as we sweat over the syncopation, writing in counts with our pencils to get the casual-seeming rhythms exactly together. "But I also want a flipped R."
And some weeks, we throw in a Spiritual.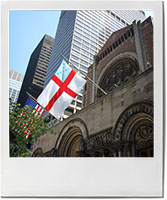 It's almost impossible to be standing in a choir stall trying to find the right tone for a proper Spiritual if you are British. Now, fair enough, I've not lived there for a while, but unless things have drastically changed over the last 5 years, Britons are a people who embarrass easily. We hate to sway and clap our hands. The moment we're asked to have rhythm, we blush, and automatically don't.
"It's "Lord, I wanna cross over into camp groun'," not "I wanT to cross over into Kamp grounD," Bill reminds me as I shuffle my feet self consciously.
JeanMarie is sympathetic. "If you try to really Feel the words, then the whole things will make sense and you'll be singing it right. – Lord I Wanna cross over into campground, I really wanna."
But I'm not convinced.
As any of my close friends or family will tell you, if Heaven involves camping, then I don't want to go there.
New York Strip Steak with Bourbon Butter
It's Jon's birthday on Tuesday, which means steak. Honestly, I think if he could have steak for dinner, then some more steak with a candle stuck in it instead of a cake, he'd be a happy man.
This is currently one of his favorites – I make it with well marinated (in lemon, salt and olive oil) skirt steak and flatiron steak too, which is cheaper, and makes for a fabulous sandwich, but for a birthday, strip is the way to go.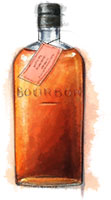 2 6oz – 8oz strip steaks
1 tbsp vegetable oil
1 tbsp butter
Salt and pepper
½ cup bourbon
¼ cup lemon juice
Few shakes of Worcestershire sauce
 
For the bourbon butter
½ cup butter (room temperature)
1 tsp dark brown sugar
2 tbsp bourbon
 
Mix the bourbon, lemon and Worcestershire sauce, and pour over the steaks. Leave to marinade in the fridge for 1 – 3 hours
Meanwhile, make the bourbon butter by mixing the butter until soft, then adding the bourbon and sugar. Dump the butter onto a sheet of plastic wrap, then squidge into a roll. Refrigerate until firm (about an hour)
Take the meat out of the fridge and wipe off excess marinade. Leave the meat to come to room temperature (about half an hour to an hour)
Preheat the oven to 400f, and heat up a cast iron griddle pan (or frying pan or BBQ grill). You need it to be screaming hot, 500f ish, and this takes about 15 mins on my gas hob
Rub the steaks with vegetable oil, then season well (oil then salt, so as not to pull moisture out of the steak)
Drop the meat into the pan and don't touch it. After 5 minutes, turn the meat. Don't touch it. After 5 minutes turn it again (if your steak is closer to an inch than an inch and a half, do 4 mins per side)
Put a knob of butter on the steak and put the pan in the oven. After 5 mins, it should be rare. If you like steak medium, give it another 5 mins
Let the steak rest for 5 mins covered in foil in a warm place before serving with a slice of the bourbon butter on top
If You Can Make That You Can Make This