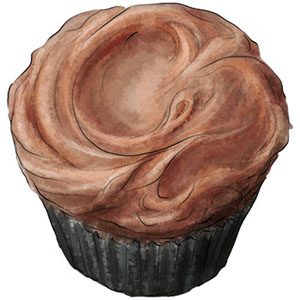 There are many things that hipsters are really good at: wearing glasses in an ironic way, finding great deals on artisanal cheese or vintage Nike Air trainers, understanding the importance of micro brewing, restoring 80s video games, taking poetry slams seriously, playing ukuleles, eyeliner.
Many of these attributes were on display in Williamsburg (hipster Mecca), at a party run by a not for profit arts magazine that my friend Kim and I attended last week.
We crushed into a pitch black bar to perch on stools and listen to book extracts, liberal non sweary stand up comedy, and a woman reading a poem about being dead in a shower. We drank wine. We planned to go out afterwards for vegan hot dogs. We were having a good time.
And then the band for the evening stood up to perform, setting up the obligatory MacBookAir and mini mixing desk. As the song started, people turned to each other in confusion: we'd either discovered something so avant garde and cool that it was beyond comprehension, or – not wishing to rain all over artistic endeavor, but I think it needs saying – Hipsters should only rap with caution.
Chocolate Cupcakes with Brown Butter Chocolate Frosting
These are serious cupcakes. Dark and somber in a way that seems particularly Autumnal to me.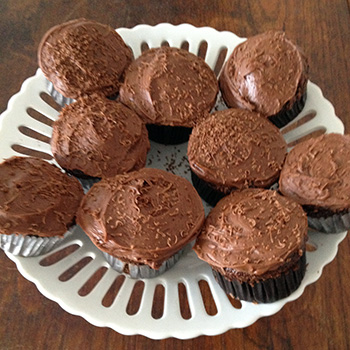 It helps that they're super easy to make – mostly because they use oil rather than butter, so no creaming involved. Best of all, only one bowl to wash up. The frosting is a game changer. Deeply chocolatey, with a sophisticated caramel kick.
For the cake
(this recipe is adapted from a full sized Martha Stewart cake)
¾ cup sugar
1 cup flour ( a scant cup – really more like ¾ cup plus 2 tbsp)
¼ cup coco powder plus 2 tbsps (really good quality)
¾ tsp baking powder
¾ tsp baking soda
pinch of salt
1 egg (at room temperature)
2 tsp vanilla extract
½ cup sour cream or yogurt (at room temperature)
¼ cup vegetable oil (or other flavorless oil)
½ cup boiling water
 
Preheat the oven to 350f
Sift the flour, coco, baking powder and baking soda into a bowl. Add the sugar and salt and mix
Add the egg, the sour cream, the vegetable oil and vanilla and stir to combine
Pour in the boiling water and mix in carefully – the batter will be pretty runny
Spoon into cake cases – I get 12 muffin sized cakes – and bake for 15 – 25 mins. This really depends on how densly filled the cake cases are – check after 15 and see how they're doing. They're ready when th tops spring back to the touch and a cake tester comes out clean
Cool in the tins for 10 mins, then move to a baking rack to cool completely
For the frosting
6 tbsp butter
½ cup coco powder (good quality)
2 ¼ cups icing sugar / confectioner's sugar
¼ cup of milk
1 tsp golden syrup or corn syrup
 
Melt the butter over a low heat until it starts to foam and turn a little brown – you want that nutty brown flavor, but don't let the butter burn
Sift the icing sugar and coco into a bowl. Add the milk and syrup and mix to a paste
Pour in the brown butter and stir to combine – I use a whisk. Let the mixture cool a little, then ice the cakes
Decorate with chocolate shavings