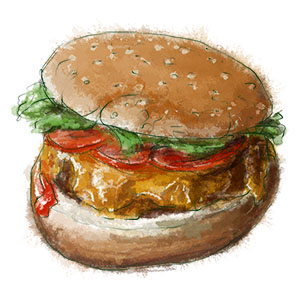 The shopping is done. The carols have been sung. Time to pack up our suitcases, turn the tree lights off for the final time, and fly home to the UK for Christmas.
Almost time to see my sister's new flat for the first time. Time to eat a proper curry with Mum and Dad, to admire Grandma's new kitchen, and to catch up with friends.
But first, one last night in New York to enjoy the Christmas lights and holiday spirit, and go out for our annual post-shopping burger and martini.
Here are some of the places that have hit the burger / martini combo spot in 2012.
Burger and Barrel on Houston street. Really close to home, classic good looks, free onion rings, awesome burger.
Thalia. You can only get the burger in the bar area, and the onion bread isn't to everybody's taste. But I love it. Best Midtown burger. Plus a sign on the door says it's Rachel Ray's favorite. Nuff said.
Isabella's. Jon's favorite brunch burger. Totally lovely restaurant. Insane at brunch time, but worth it. On a point of information, it's also insane to drink martinis over brunch. Lesson learnt, 2012, lesson learnt.
Delicatessen. The burger is good. The truffle fries are over the top amazing. Dress to impress and feel cool as all get up celebrity spotting at the bar.