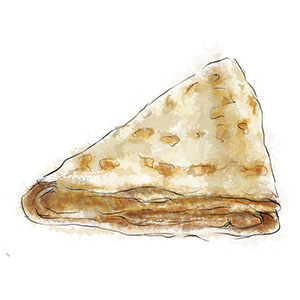 It's pancake day – time to use up all the things in your cupboard that you're not going to be needing once Lent gets going. Like eggs. And flour. Won't be seeing them again until April. Possibly.
My mother always liked to make pancakes on Shrove Tuesday when I was growing up. She'd clatter around in the cupboard looking for just the right frying pan, she'd remember to mix up the batter and let it rest of a few hours, she'd track down the squeezy lemon, she'd buy scotch pancakes to toast for tea.
My Grandma was also a pancake maker. A prolific one. When my sister and I stayed with her she'd make them for our breakfast. Sarah loved to toss the fragile disks into the air, grimacing with the effort of lifting the heavy pan and getting the wrist action just right. She had a knack for it. Even Grandma couldn't get a pancake to double flip the way my sister could.
The first pancake is always a disaster. The batter is too thick and the pancake is leather. The pan is too cold and the pancake never crisps until it burns. But the third and the fourth pancakes are the food of the gods. Or God, if you prefer to keep metaphors appropriate to the food festival in question.
This is a proper French-style thin crepe. The batter needs to be mixed really well to eliminate lumps, and then it's best to leave it to stand for at least an hour in the fridge. When you take it out it will have thickened. I usually thin it down with iced water. You want to consistency to be like double cream.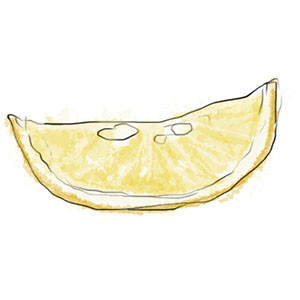 Classic Pancakes
300 ml milk
2 eggs
1 cup (115g) plain flour (sifted)
Pinch of salt
Vegetable oil for cooking
 
Mix the ingredients together in a blender (or with an electric whisk adding the milk a little at a time – you can do it by hand but you need to really mix everything well)
Leave to stand in a cool place for at least an hour
Heat a frying pan, and brush with a little vegetable oil
Pour in the batter (about ¼ cup works for my pan) and swill it around to get a thin coating
When bubbles start to form shake the pan to get the pancake to slide around, then flip the it over and cook the other side
Keep warm in the oven separated by sheets of greaseproof paper while you make the rest, or eat hot out of the pan and let everyone make their own
Serving suggestions
I'm a lemon juice and sugar woman
Nutella is amazing too – memories of Paris
Maple syrup and bananas and toasted pecans
Vanilla ice cream and warm apple sauce
Orange juice and sugar