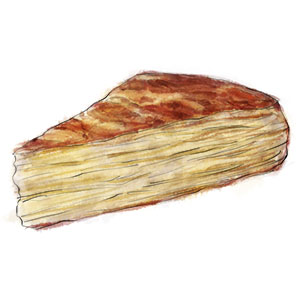 Ok, so this doesn't sound in the least bit authentic, I know, and I really was a skeptic when my Spanish friend Monica told me that she and her mother and her grandmother all make tortilla with potato chips – crisps if you're British, like me.
I was predisposed to like the idea. I'm a big fan of the potato crisp. And crisp sandwiches are a fairly regular lunch staple of mine. Apparently you can take the girl out of Wigan… So I headed home to immediately crack some eggs and pop a couple of bags.
Way more sophisticated, and way more authentic tasting that I expected. Not a joke food at all. Totally delicious. I am resolved never to make a potato omelet any other way.
Add a big green salad, a bowl of olives, some cheese, some almonds, ooh, maybe a plate of ham if Jon can stop by Murray's on the way home from the office, and it's a feast. The kind of Friday night after work what were we thinking inviting all these people over for dinner that's actually totally achievable and way more stylish than the sum of its parts.
Fittingly for a food made from packets of crisps, a drink to go with, made from a can of peaches.
There's a more sophisticated version of this sangria in my summer rotation, but this red wine version feels a bit more appropriate for March.
Peach Sangria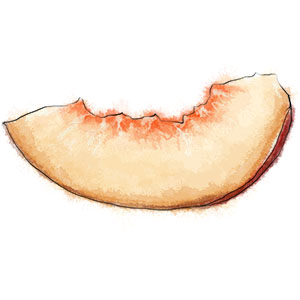 You get a regular can of peaches and blend the syrup and fruit to a puree. Pour into a jug. Add a bottle of red wine, 1 cup of Cointreau (or orange juice) and 2 cups of lemonade or Sprite. Lots of ice. Fruit to garnish if you're feeling fancy.
Potato Chip Spanish Omelette
8 large eggs
4 regular bags of ready salted potato chips
1/3 cup chopped Serrano ham
optional – ¼ cup chopped black olives or fresh tomatoes or peppers, or any other mix in you think you'd like
salt and pepper
olive oil
 
Pre heat the grill / broiler
Crack the eggs into a large bowl, season – easy on the salt, heavy on the pepper, then add the ham (and anything else you like), mix in, and crunch in the potato chips in little shards
Heat a couple of tsp of olive oil in a frying pan, then, once the oil is hot, pour in the omelet mixture
Cook on a medium heat until the eggs are mostly set – about 3 minutes
Put the pan under the broiler/grill for another minute or two until the top is set and golden
Slice onto a plate, cut into quarters and serve with a sharply dressed green salad