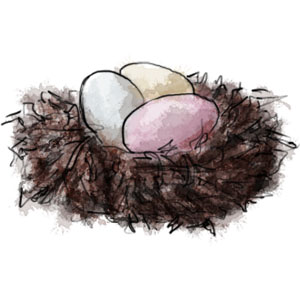 This is the essential Easter recipe, as far as I'm concerned.
Every year, these were the treats we made at Brownies, at Sunday School, at School, at home to take to bake sales, or up to Grandma's. And now, these are the treats I make with visiting children, or as my Easter Lunch centerpiece, or to take to choir in the middle of Holy Week when the singing gets tough and the sugar is much appreciated.
Easter Egg nest cakes are adorable, and seriously easy. It's a win win. Â 
I think the key to getting a nest-like "nest" is using shredded wheat (not Shreddies, Healthy Organicy Shredded Wheat). Do birds make nests out of things in nature that are shaped like Cheerios and Rice Krispies? No they do not. But in a push, well, any plain cereal will do.
I like to fill my nests with Cadbury's mini eggs because they are so beautiful. I'm also rather partial to a robin's egg (American Candy Alert: a Robin's Egg is a kind of giant brittle Malteaser), but obviously, use what you like.
Chocolate easter Egg Nests (makes approx. 12 nests)
8 oz (1 bar) of good quality chocolate (given that children are likely to be eating these, by all means use milk chocolate if that's what they prefer)
2 oz butter (tbsp)
2 tsp syrup (I use golden syrup, but light corn syrup is fine too)
4 oz shredded wheat (though you can use any cereal you like)
At least 1 bag Cadbury's mini eggs
 
Melt the butter, syrup and chocolate in a bowl over boiling water (or in the microwave, go gently and stir after a minute or two)
Shred up the shredded wheat a little then mix in
Spoon the mixture into paper cake cases pressing down a little in the middle to make a nest. Â Allow to cool
Top with mini eggs