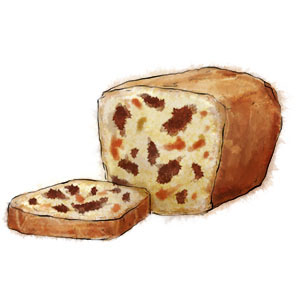 I recently spent a week at home in the UK. And, much to the delight of my Downton Abbey bereft American friends, my trip was a catalogue of quintessentially British cliche.
We kicked things off with a reception at the House of Lords (which sells its own gin in House of Lords labeled bottles), then dotted the days with highlights such as a curry in Tooting, a fish and chip supper in Wigan, a trip to the National Theatre and a party for Uncle Elwyn's 80th birthday with ham and new potatoes, and a quiz where we had to name the geographical location of various campsites he visited over his lifespan so far, represented in 2 inch photos.
All fabulous in their own ways. All nostalgia inducing.
I filled my suitcase with boxes of Marks and Spencers biscuits, and headed back to New York with the soundtrack to Mrs Minever (Grandma's favorite) ringing in my ears.
Fruited Tea Cake
1 cup diced or grated apple (if grated, wring out in a clean tea towel)
1/4 cup chopped walnuts
3/4 cup mixed dried fruit (or a mixture of sultanas, rasins and currents, and maybe a few diced apricots)
1/4 cup strong tea
Zest of one orange
1 cup flour plus 1 tbsp
3/4 cup sugar
1 tsp baking powder
1/2 tsp salt
1/2 tsp baking soda
2 large eggs
1/2 cup vegetable oil
1/2 cup plain yogurt (or sour cream)
 
Preheat the oven to 350f and butter and flour a loaf pan (9 by 5ish)
Pour the tea over the dried fruits, add half the orange zest and let them soak up the liquid of half an hour.
In a jug, mix the eggs, yogurt and oil
In a bowl, mix the flour, sugar, baking powder, salt, and baking soda
Stir the walnuts and the dried fruit (shaking off excess tea) into the flour mixture, add the apples, and the rest of the orange zest, then pour in the wet ingredients. Stir to combine
Pour into the loaf tin and bake for 55 mins, until a toothpick comes out clean (you may need to cover the top with foil to prevent it burning, so check after 4o mins or so)
Cool in the pan for 20 mins, then cool on a rack until at room temperature
If You Can Make That You Can Make This