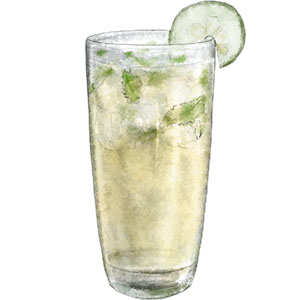 The SlapFight sketch show after party was held in the Comedy Bar, where Scott had managed to secure a drinks deal. There we all were, patting ourselves on the back for another show accomplished, plus laughs, minus tumble weed, when Jon noticed a woman with nothing between herself and the bar stool but a g-string. "That's odd," he said.
A more investigatory glance around the bar confirmed it. It was burlesque night.
It was a strange feeling to be inadvertently at a burlesque night, without either one of my parents or an ex-headmistress aunt being there too. Inevitably this happens – naked ballet, naked scene shifters, misinterpretation of Cabaret when buying theatre tickets. FML. But here we were, and here they were, and the show started.
Pretty much immediately, all the guys hit the bar, and all the girls edged closer, craning for a better view of other ladies walking up and down and winking while wearing nipple pasties and pearls.
"So, it isn't stripping if it's done with a sense of camp?" wondered Keisha as a sequined glove landed at our feet.
"I think it's very empowering," said Whitney. "I'd get up there and do it myself right now if I had better underwear on today."
Given that only a week ago I had been causing a sensation at the Iranian Souk in Abu Dhabi by wearing a knee-length v-neck sundress, the contrast felt especially marked.
"I did a burlesque class once," said Julie, as a girl dressed as an Uno card stripped to the tune of One Is The Loneliest Number. "People think that twirling your nipple tassels is a breast related skill, but it's not. It's just about where you place your feet. Weight forward, the tassels will swing into each other."
If you want to try that at home, this is probably the cocktail you want to drink first.
Grapefruit cooler 
1 measure vodka
6 mint leaves
1 tsp granulated sugar
fresh grapefruit juice
soda water
 
Muddle the mint leaves and sugar in a shaker, as if you were making a mojito

Pour in the vodka, add ice and shake to combine. Pour into a highball glass

Top up 2/3 of the way with fresh grapefruit juice, and the rest of the way with soda