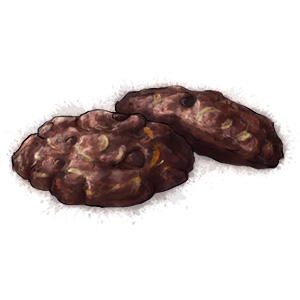 Don't knock 'em till you've tried 'em.
So apparently the potato chip in a cookie concept is not uncommon here in America – I believe that a cookie exists called a Kitchen Sink, into which you can chuck any other kind of crumbled up junk food before baking and eating in ecstasy.
I first made a batch to use up fancy kettle chips, and then I bought a bag of fancy kettle chips to make another batch.
Moving in a more Kitchen sink direction, batch number two also had added peanuts, pretzels and caramel chips. Also good. Keep the proportions of ingredients to add ins about the same, and experiment.
Chocolate Potato Chip Cookies (makes 2 dozen)
These cookies are dense and deeply chocolate – it's the coco powder that gives such a smoky richness.
1 stick soft butter
½ cup light brown sugar
1 egg
1 tsp good vanilla extract
1 cup flour
¼ cup coco powder
2/3 cup chocolate chips
2/3 cup crunched up salted potato chips (the thicker the better)
 
Preheat the oven to 350f
Cream the butter and sugar in a mixer until light and fluffy (about 5 mins on low)
Add the egg and vanilla extract, then incorporate the flour and coco a couple of tbsp at a time until mixed
Stir in the chocolate chips and potato chips
Use 2 tsp to scoop out mixture, roll in your hands to shape, and lay on a baking tray covered with parchment or slip mat. Leave space, they spread a bit.
Bake for 12 minutes. Eat warm
Add ins:
Pretzels
Caramel chips
Dry roasted peanuts and white chocolate chips
Replace the chips with toasted hazelnuts
Add a handful of dried cranberries to the mix
Replace the chips with caramels diced up into little pieces. Sprinkle a pinch of salt over the cookies before baking
Leave out the chips, but add the zest of one orange
Or try these shortbread cookies
Or these ginger cookies