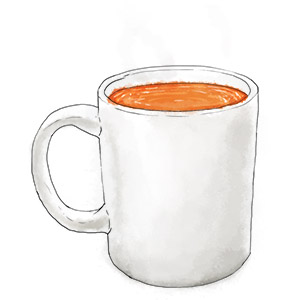 Some days, the wind blows in off the Hudson, through your coat, through your fluffy cardigan that looks as though it's been made from the skins of Abominable Snowmen, through your thermals, through your skin, and straight to your bones.
The cold freezes your spirit. The world is gray. Your socks get damp and stay damp. There is no hope.
This is soup for days like that.
Makes 4 mugs.
1 onion 1 can of chopped tomatoes 1 cup chicken stock (stock cube is fine, or just water) 1 tsp butter ¼ cup cream / cream cheese (optional)  
Dice the onion, sauté in the butter until sweet and soft. Season well.
Add the tomatoes and stock and simmer to bring the soup together.
Add the cream or cream cheese if using and stir to combine.
Pour into mugs and serve.