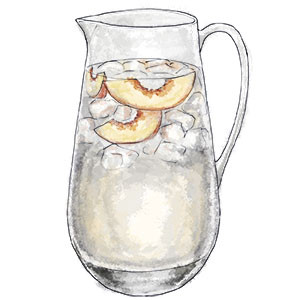 If it's summer, then there probably should be Sangria, right? Ideally, peach sangria, made with white wine, because, honestly, even though the incident where Jon was carrying a jug of red sangria and did not see that the screen door (yes, we had to repaint the walls and ceiling) Â was 3 apartments ago, that kind of drama lives on in memory.
In other news, we got a new couch. It's very fancy. Blue velvet, non-slip covered. Seems like a massive risk.
And so, white wine sangria it is. Luckily, when it tastes this good, there's no hardship in that.
White Wine Sangria
1 bottle of Sauvingnon Blanc (something drinkable but not too fancy) 2 cups of club soda ½ cup Cointreau ¼ cup of peach syrup (from a can of peaches) – you could dissolve ¼ cup of fine sugar into the Cointreau if you don't have a tin of peaches 2 sliced ripe peaches 1 cup of ice
Pour into a pitcher, stir and serve. You can make it several hours ahead of time and keep it chilled in the fridge, but only add the club soda at the last minute or it will go flat.