In slight resistance to the New Year feeling that's been in the air all week I've been regressing, clinging onto the last of the summer; turning on the chili fairy lights, cranking up the Buena Vista Social Club.
It's not fall yet people.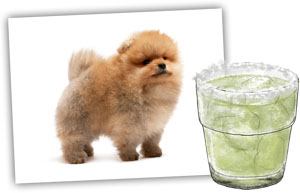 Which is good news for you, the meandering couple that I got stuck behind on Bleecker Street. You know who you are. You fretted for three blocks about which color rain boots would be the best choice to buy for your dog. But – hooray – don't worry! You don't have to sweat the decision right now because:
a) Summer is still here for another week or two.
b) Your dog is a Pomeranian. I hear they're not so fashion forward. I've never heard one ever voice a sartorial opinion. Red rain boots. Blue rain boots. It's all the same to them. They're just not that into it I suppose.
c) Your dog doesn't actually need rain boots at all. Because you are carrying it.
Go home. Have a short, sharp margarita. Put such serious concerns behind you for an hour or two.
Mean Margaritas (per person)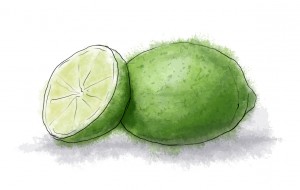 1 shot tequila
½ shot Cointreau
½ shot lime juice
Salt
Run a cut lime around the edge of your glass then dip it into some coarse salt
Shake the booze and the lime juice over ice and serve
Sure you could go with a bag of tortilla chips and have done, but do you want to miss out on a fresh hot sweet corn fritter spiked with cilantro and flecked with chili? I'm just saying …
Sweet corn Fritters
The last of the summer sweet corn is being sold off cheaply on my fruit and veg stand, and though frozen or canned works pretty well, there's nothing quite like the taste of fresh corn.
1 cup of corn kernels
2 eggs
3 tbsp flour
1 tsp baking powder
1 green chili
1 handful chopped cilantro (coriander)
Juice from half a lime
Salt and pepper
Queso Fresco (or parmesan) to serve
Whisk the eggs until frothy
Mix in the flour and the baking powder until smooth
Mix in the corn kernels, as much finely chopped green chili as you think you might like – I use about half a large de-seeded green chili, and the chopped cilantro
Squeeze in the juice of about half a lime
Season with salt and pepper (about ½ tsp salt and ¼ tsp pepper)
Fry rounded tsp sized dollups in a little bit of light olive oil, turning as soon as the bottoms are cooked (about 1 min total)
Keep warm under foil until you've finished the batch – you should get something in the region of 20 – 30
Arrange on a serving plate and sprinkle with crumbled queso fresco (though if you can't get that salty parmesan is also good), and serve lime wedges on the side