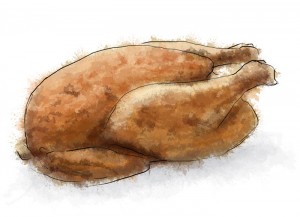 We're experiencing something of an Indian summer in New York. After lugging my coat around with me all last week, I've decided to take my new beret (a brave fashion choice that I'm not entirely sure about yet) out of my handbag and to leave the umbrella at home (if it's raining now you can blame me).
As Santos at the bodega said this morning; "this weather; it's like a holiday!"
I walked through the park where the leaves are touched with coral, drinking my hazelnut coffee, and feeling that the season was trembling on the edge – not quite fallen, but certainly on the brink.
So for my Monday treat, I'm looking for something warm, fragrant, light and beautiful for dinner. But since I am home alone while Jonathan solves the mysteries of the universe as best he can at a conference, and since my work schedule is looking decidedly busy, I want my dinner to be the dish that keeps on giving through the week. Here's my thinking:
Roast the chicken today and let the warm spiced cinnamon and sweet oranges make the kitchen smell like something out of the Arabian Nights. Eat some cous cous sprinkled with jeweled pomegranates alongside and it's a dinner fit for Sheherazade herself.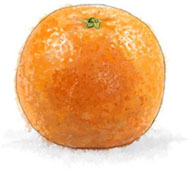 Then prolong the pleasure by turning today's leftovers into tomorrow's feast. I'm planning on making flatbread sandwiches; Warm a flatbread for a few minutes under the grill. Smear some humus or Greek yoghurt in the middle, top with the chicken, some fresh parsley, some cucumber strips (use a vegetable peeler) a pinch of paprika and a squeeze of lemon. Roll up and munch.
And into the week; a salad of cold chicken, slices of oranges, a handful of black olives, spinach and a dressing of olive oil and orange juice, with some leftover flat bread brushed with olive oil, chopped into cubes and toasted in the oven to make croutons.
Ingredients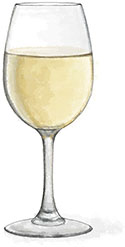 1 chicken (buy it ready to roast, life's too short to de-giblet a chicken)
1 large yellow onion
2 oranges
½ cup dry white wine
2 tbsp soft butter
3 tsp cinnamon
1tsp cumin
Salt and pepper
Bring the chicken to room temp
Pre heat the oven to 400
Peel and quarter the onion then halve the quarters again and lay the pieces in the middle of a roasting tin
Rinse the chicken (inside the cavity too) then pat the skin dry with a paper towel
Cut one orange in half. Squeeze one of the halves and mix the juice with the soft butter, 2 tsp of the cinnamon and the cumin. Season with salt and pepper.
Lift up the skin of the chicken being careful not to tear it, then slide about half of the butter under the skin. Smear the rest all over the chicken.
Season the cavity with salt and pepper and the remaining tsp of cinnamon
Chop the rest of the oranges into quarters and stuff inside the chicken
Pour the wine into the tray
Put the chicken on top of the onions – this acts as a sort of natural trivet keeping it out of the liquid – and roast for an hour or so, depending on the size of the chicken. Start checking the temp after ¾ of an hour. It must be 180 in the thigh.
Let the chicken rest for 15 minutes then serve with the gravy that's in the tin. (The orange pieces are delicious to eat too, BTW)
If You Can Make That You Can Make This: