Like something that only happens in the movies, Amazing Grace went out for dinner with the stranger she met one lunch time in Madison Square Park.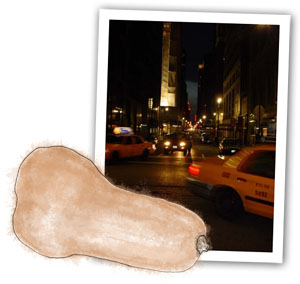 The restaurant terribly chic and terribly Chelsea – Grace calculated that they were the only straight couple there. It was the kind of place that serves market fresh seasonal specials from chalk boards and never needs to rub out the words "organic" or "corn fed" or "side of polenta".
So they ate poussin, which was a little dry, with roasted butternut squash that tasted like sweet manna from heaven and chatted about everything under the sun.
Alex, it seemed, moonlighted from his office job as often as he possibly could as a jazz pianist.  He clearly loved it. This filled Grace with a sense of impending dread – she had sat in velvet shrouded underground village haunts before, listening to singers flicking their cheeks to make a percussive tapping sound, and singing do-be-do-be riffs to a rhythm that was evidently ringing loud and clear in their own heads, though sadly not in anyone else's. She had suffered through lengthy drum solos with copious castanetting, and feigned interest in original tone row compositions written by jobbing bass players. Dating Alex would surely lead to more of the same.
Eventually, sensing the dip in the mood, Alex called her up on it.
"You don't like jazz?"
"Sometimes it can be a bit Emperor's got no clothes."
"What?"
"You know, like in the story where the emperor wants new clothes and the tailors tell him that only someone clever can see the cloth and he doesn't want to say he can't see it, so then of course nobody else wants to admit they can't see it, but all the time, the emperor had no clothes on."
"Oh."
Grace chewed her butternut squash in silence for a moment. She's probably blown this one. She shouldn't have said a word against jazz. It always led to trouble. A disagreement on politics would have been fine. Movie Genre conflict was a storm they could have weathered, sweet v salt popcorn, animal v human charities even. But jazz was divisive like that.
Eventually he smiled. "There's something to that. Last week we were tuning up before a gig and the audience all started clapping. I guess they thought that was the song."
And just like that, things were ok again.
Later Grace buttoned up her coat for the first time in forever and he took her arm as they walked through the freshly autumnal city.
"I live just around here" he said.
And there it was, the unspoken question rearing its head like a beaming naked emperor between them.
"Do you want to come up?"
In my experience a healthy absence of experimental jazz coupled with an excess of roasted butternut squash can have that affect.
Butternut squash is my favorite vegetable bar none. I know that I picked the restaurant that was the scene of my engagement because it had something with butternut squash on the menu – though after Jonathan decided after many years of dating to make an honest woman of me I was so surprised I have no memory at all of what I actually ate.
It's also the only food to have literally put me to bed. A bowl of roasted squash soup with a drizzle of maple syrup knocked me out for the afternoon when I ate it for brunch with Jon a few weeks ago. That said, brunch followed by an afternoon in bed is not necessarily a bad thing …
Roasted Butternut Squash Rigatoni (serves 2)
This pasta dish is elegant, sweet and tangy and creamy all at once.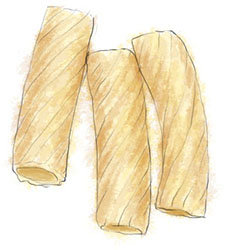 Rigatoni (about 200g)
½ butternut squash peeled and cubed into a 2cm dice
3 tbsp crumbled feta cheese
3 tbsp cream
2 sage leaves
1 tbsp butter
2 tbsp chopped pecans
1tbsp parmesan cheese (grated)
2 handfuls of arugula (rocket)
Salt and pepper
Preheat the oven to 450
Toss the squash cubes with olive oil salt and pepper then roast for 15 minutes until soft and caramelized
Meanwhile bring a pan of water to the boil, salt liberally and add the rigatoni
Boil for 1 minute less than the packet instructions so that it is al dente
Drain the pasta but not too well – the starchy water will help the sauce
In the hot pasta pan, melt the butter and add the sage leaves. Sizzle for a minute to release the flavors
Add the roasted squash, the feta and the cream then add the pasta and stir to combine
Season well
Stir a handful of rocket into each portion – the heat will make it start to wilt just a little
Serve with chopped pecans and parmesan cheese scattered on top
If you have a blender and the inclination, you could puree half of the roasted squash and stir it into the cream as a sauce, leaving the other half to be scattered whole into the rigatoni.
If You Can Make That You Can Make This: