Oozing-Pus Chocolate Cup Cakes (makes 6 – 8 portions)
These are molten white chocolate truffle cup cakes by any other name, and the warm white chocolate really does ooze pus-like from the centre when they are cut open – the perfect end to an adult Halloween party.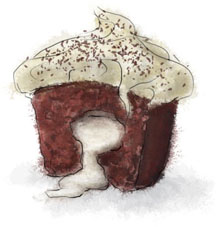 5 oz chocolate (just less than 2 bars)
¼ cup plus 1 tbsp butter
3 large eggs
3 large egg yolks
¼ cup of sugar
3 tbsp flour
8 – 12 white chocolate truffles (I usually use the Lindt Lindor ones that are sold individually at the checkout in my local supermarket)
Pre heat the oven to 320
Melt the chocolate and the butter in a bowl over a pan of hot water or in the microwave
Meanwhile whisk the eggs, the yolks and the sugar until they are fluffy and pale (by hand; 5 mins, by electric whisk; half that time)
Fold the chocolate gently into the egg mixture
Add the flour and stir to combine
Divide half the mixture into cake cases – or straight into a well-greased muffin tin
Pop a truffle on top
Layer over the other half of the chocolate mixture
Bake for about 15 minutes – keep an eye on them – and cool for 10 minutes
Top with whipped cream and grated chocolate or rich red-brown coco powder, and consider adding Bailey's to the cream for a decadent touch (about 1 ½ cups of cream would do it)

Worms in Dirt (makes 6 portions)
1 cup of jelly worms
1 ½ cup of dark cookies (Oreos are perfect, or bourbons, or chocolate digestives for a sandier "dirt")
2 tbsp melted butter or 2 tbsp room temperature cream cheese
Mini plastic glasses or dishes or cup cake cases to serve
Blitz the cookies to crumbs in a processor or in a zip lock bag with a rolling pin or equivalent
Mix with the melted butter to form soft damp clumps
Arrange a few jelly worms in each glass or dish
Top with the cookie crumbs

Candy Corn Rocky Road (makes about 24 mini portions)
This is traditionally a tray (non)bake, but I like to make it in mini cup cake cases about the size of a milk bottle top. I've found some in a fabulous orange foil that I'll be using this year. This makes them dinky, but on the downside, you don't get to see the orange strata of sweets layered into the chocolate in the same way that you do with squares. A solution now I think about it would be to slice and put the slices into mini cup cake cases …
It's really sweet, so I go for small servings.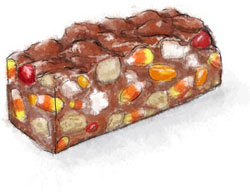 12 oz chocolate (about 3 bars)
3 tbsp golden syrup
1 stick of butter
1 cup of cookie crumbs – I like chocolate digestives, but you can use whatever you like
1 cup of white mini marshmallows – if you can only get big ones chop them up
½ cup of candy corn
½ cup Reeses peanut butter pieces (chopped) or crushed orange and red M&Ms
Mini cup cake cases or a 10 inch square baking tray – don't get hung up on this – anything close will do
Melt the butter, chocolate and syrup over a pan of boiling water (or in the microwave)
Mix in the cookie crumbs, the mini marshmallows and the sweets
Pour into a tray or dollup into cup cake cases
Refrigerate until set – depending on the depth of the tray you could be ready to eat in an hour or two
Allow the tray to come to room temperature for 10 minutes before slicing with a sharp knife dipped in hot water

Toffee apple Ice Cream Sundaes
I adore toffee apples; the genuinely toffee ones that you can buy in Fairways, the chocolate ones studded with sweets from ye olde giffte type shoppes, the fairground break your teeth red candy apples that somehow get stuck in your hair even though you are now an adult.
This ice cream sundae is homage to that – but with no funny turns; just delicious good old fashioned Halloween flavors.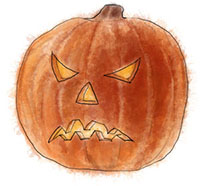 2 apples, peeled, cored and diced
3 tbsp butter
4 tbsp sugar
½ cup of cream
Vanilla ice cream
Shop bought caramel pop corn
Fry the apples in 1 tbsp of the butter and 1tbsp of the sugar until they are soft and starting to caramelize (about 5 mins)
Add the rest of the butter and the sugar and cook until the caramel is deep brown (another 5 mins)
Pour in the cream
The caramel with seize up, but don't worry, keep stirring and it will melt again forming a thick sauce
This sauce is best served warm – you can make it in advance and re-heat it, but you might have to add a bit more cream to thin it out.
Layer vanilla ice cream with this toffee apple sauce, then top with shop bought caramel pop corn.

Mini Cake Squares
This is more of an assembly job than cooking really, but it's a very effective way to create high impact with little effort, and it's certainly a project that children could help out with.
We're creating an array of perfect tiny cake squares, all iced and decorated. The fun here is the theme.
Buy a pound cake, or two for a crowd. The ones I buy are in the shape of a loaf
Slice thickly in the opposite way you would a loaf of bread to make long slices. Aim for at least an inch width per slice so the cakes don't fall apart when people pick them up – I get three slices per loaf
Ice each slice generously with frosting, which you can make by mixing 2/3 stick of butter (1/3 cup if you prefer) with 3 cups of confectioners (icing) sugar. Once it's smooth and soft, add 1 ½ tsp good vanilla and t tsp milk. (You can also buy this in a pot from the supermarket.) Color it according to your theme.
Now cut each slice into 2 inch squares to make dinky little individual cakes
Decorate
Lay the squares on a platter in geometric lines for maximum impact
Decorating ideas:
Orange icing: little piles of candy corn, red and orange M&Ms, posh Godiva orange chocolate pearls, baby candy pumpkins
Black Icing: assorted jelly insects
(Consider doing a stripe pattern of some orange, some black.)
Chocolate icing, chocolate cookie crumbs (like soil) and jelly worms
White icing, large white marshmallows with eyes and a mouth dotted on them with melted dark chocolate and a toothpick to make ghosts