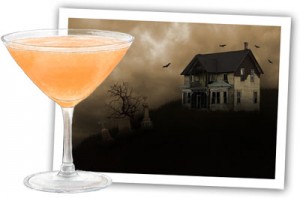 "Can I take a look in your purse?" asked the security man outside Ricky's. I'd been on a quest for glow in the dark vampire teeth to send to godson Arthur (what else?), but was leaving empty handed. Nevertheless, a bag inspection was required, so I unzipped and subjected a wallet, a bunch of keys, 3 lipsticks, 2 lip balms, a blackberry, an i-pod, a note book, 4 pens, a nail file, and a pink plastic banana holder to scrutiny.
"Sorry, but I gotta do this," the security man apologized as he poked about with a mini torch. "The other day we had a guy come in here and steal 900 bucks worth of stuff. 900! He went in wearing this big grey jacket and came out in a t-shirt wheeling a suitcase. No word of a lie. Full of Halloween costumes. Full. 900 dollars. Of costumes. So I'm standing there looking into this suitcase thinking, there's just me on the door. This is the time you're gonna want to start running, then I gotta pick; the costumes, or your ass. And he doesn't know this, but I've got a bad foot, so …
But he just stands there and says; "Oh these? These costumes? These are mine. I bought them in this other store. These are mine." It's lucky we got cameras. That's all I can say."
He sighed a disappointed sigh, shaking his head much as Napoleon might have done, surveying the snowy wastes of Russia while his Under-General swore that the weather forecast that morning had promised light to moderate breezes and sunny interludes.
"That's terrible" I agreed.
"I know it. Stealing Halloween costumes. That is Not the spirit of the holiday."
"Exactly," I joked, zipping up my bag. "The spirit of the holiday would be vodka, no?"
He looked at me balefully, the imperfections of the human condition weighing heavily upon his shoulders.
I went home and had a drink.
Frozen cantaloupe martini (per glass)
1 cup of cantaloupe melon chunks
1 shot vodka
1/2 shot triple sec
Squeeze of lemon
Freeze the melon cubes for at least an hour
Pour the vodka, the triple sec and the chunks of melon into a blender and blitz to a vivid orange slush
Add a squeeze of lime to taste
If you can make that, you can make this:
Devils on horse back
1 rasher of streaky bacon for every 2 no soak de-stoned prunes
I usually count on people eating 4 or 5 depending if there's any other food to eat. They can be made in advance and frozen, then cooked from frozen in the oven.
Cut a slice of streaky bacon in half
Using a knife blade carefully stretch out the bacon as though you are buttering bread
It should now be much thinner and about the same length as the original slice
Place the prune at one end and roll up
Put on a tray with the loose side on the bottom
Cook in a hot oven (400ish) for 12 – 15 minutes until the bacon is cooked
Allow to cool for a few minutes before serving
It's traditional to stuff the prune with an almond, but I'm always a little freaked out eating them, thinking the stone's been left in.
If you can make that you can make this:
Wrap dried apricots in the bacon to make angels on horseback
Wrap half a fresh fig topped with a thin smear of goat cheese in bacon for a fresher take on the classic