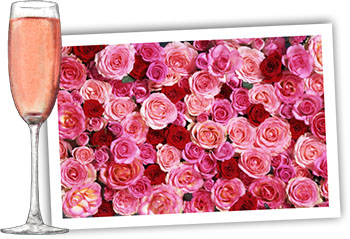 It's official. Grace is in love. It happened just before midnight when Alex, guy she picked up in the park back in the summer, said it first.
Huge relief. It was easy. The words came flowing out. "I love you too". And then the ball dropped and they kissed, and it was a bit like When Harry met Sally, only without the shoulder pads.
And to think that she had been worried about saying it for so long. Grace was pretty sure that the L word dropped prematurely was enough to send even reasonably moderate men running for the hills, so she had bitten it back when Alex presented her with a silver bracelet for Christmas – not just any old bracelet either, one she'd admired in a store window way back in October. Amazing.
So the New Year is looking good for Grace, as we toasted her news with pink champagne. And since I'm in full pre-epiphany mode, I added a splash of rose water for extra Arabian Nights appeal.
Rose Pink Champagne



1 glass of pink champagne
1 tsp rose water
Stir and drink
Flat bread "pizzas"
I buy packets of flatbread from an Indian spice shop and keep them in the freezer so that I have the wherewithal to provide snack food to go with drinks with very little notice.
I let them defrost for a few minutes then brush them with oil that I flavor, and bake them in a hot oven (400ish) for 4 mins until they are crispy. Then I slice them into fingers and pile on a platter.
They act like pizzas and consequently lend themselves to a variety of toppings – mozzarella and tomato, garlic oil and red pepper flakes, pesto and roasted vegetables etc.  But here, in keeping with my epiphany mood, I'm heading more into We Three Kings territory.
Zaatar flat bread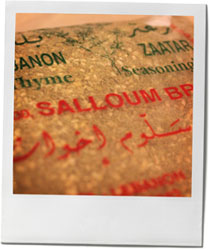 1tsp Zaatar
1tbsp olive oil
Salt and pepper
Flat bread
(Zaatar is a Lebanese spice mix including thyme, sumac  and sesame. I buy it in an amazing Indian Spice shop on 1st Ave at 4th St.)
Mix the zaatar with 1 tsp with 1 tbsp of oil and a pinch of salt and pepper
Brush over a flatbread
Bake in a hot oven (400ish) for 4 mins until the bread is crispy
Slice and serve
Feta, black olive and cherry tomato flat bread
1 tbsp feta, crumbled
1 tbsp black olives, chopped
1 tbsp cherry tomatoes, diced
1 tbsp olive oil
Salt and pepper
Flatbread
Brush the flat bread with oil and top exactly as you would a pizza
Bake at 400 for about 4 mins until the bread is crispy
Slice and serve
Goat cheese and apricot flat bread
3 tbsp soft goats cheese
2 tsp honey
1 tbsp dried apricots rehydrated for a minute in warm water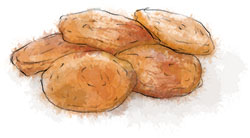 Pepper
Flatbread
Mix the honey with the goat cheese
Spread over the flat bread
Dice the apricots and scatter over the cheese
Season with pepper
Bake in a hot oven (400ish) for 4 mins until the bread is crispy
Slice and serve