Cook pasta + olive oil + deli ingredients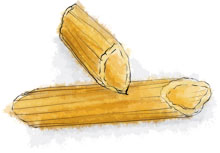 If you can boil a pan of water, you can make pasta, and if you can shop at a deli counter you need do nothing more than lubricate the cooked pasta with some good olive oil and tip in the contents of a plastic container to have a delicious dinner on the table in moments.
It's almost more of an "if you can buy that you can make this" recipe, but here goes – some notes on boiling pasta:
Bring a large pan of water to the boil. Put a lid on to speed things up, and get the water going way in advance of people coming over if you intend to cook for company – watching a water pot come to the boil can seem to take forever.
Salt the boiling water. There's an Italian saying about the water needing to be as salty as the Mediterranean Sea. I think that's in the region of a scant tablespoon – depending on the size of your pot.
Tip in the pasta shapes – about 100g per person – though I usually use more …
Stir to stop them sticking together and let them boil for however long it says on the box, minus 1 minute. Nothing worse than claggy pasta. You're going for al dente.
Drain, but not too well – the starch in the pasta water helps bind the sauce together.
Pour over something in the region of 1 tablespoon of olive oil per person.
Top with deli ingredients.
– sounds easy, right?
And if you can make that, you can make this;
What would you like to make?