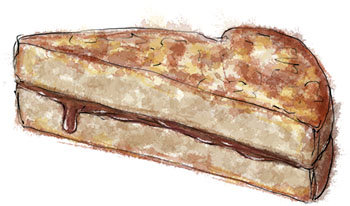 Yes it's on a Monday. No, it might not be the most relaxed breakfast in bed of all time, but it's worth taking the time to make an impression with these low effort Valentines breakfast ideas.
No Cook Options
1. Fresh rolls, great strawberry preserves, unsalted butter, fresh strawberries
2. Pink smoothie served in a cocktail glass
3. Greek yoghurt, honey, good quality granola
4. Chocolate croissants, fruit salad in a martini glass – blueberries, pomegranates, raspberries, squeeze of lime.

Little Bit of Cooking
5. "I Love You" Toast
This really is low effort romance. It's also totally a child-friendly project (and nice to make for kids too)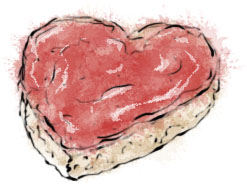 Make toast.
Butter and spread with pink jelly (jam).
Use a cookie cutter to cut into heart shapes.
That's it.
6. Bagel – toast it. Add cream cheese and really good quality smoked salmon or lox. Buy good quality orange juice. Serve in a cut crystal glass.
7. Nothing says "I Love You" like bacon
Bake the bacon in the oven (frying seems too much for a Monday morning) for 15 mins at 350ish while you take a shower.
Butter some great crusty white bread, layer on the bacon and optional tomatoes, ketchup, HP sauce etc – whatever you like best.
Present to your loved one.
Expect thanks and happiness.
8. Pancakes – cut them into heart shapes with a cutter, or place the cutter in the pan and pour the batter in to make a heart-shape
9. Eggs en cocotte – These creamy eggs are deliciously indulgent
10 Nutella French Toast. There are no words