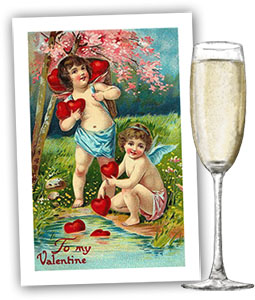 Jonathan and I officially "don't do" Valentines Day. We will not be taken in by cards with kittens on them, or by Snoopy-themed chocolates. No set price menus including duck, a chocolate dipped strawberry and a swirl of raspberry coulis for us. Oh no. We deliberately set out to eat Pizza Hut and drink beer.
But that still means he has to get me flowers, right?

Because he should want to do it anyway, despite us "not doing" Valentines, right?
So I buy him a card as a back up. Which is fine, because he's bought me a card. I know because I can see it in his laptop case. But now the big day has arrived, and he hasn't given me my card, and I haven't given him his card. And neither one of us wants to be the first to admit it; we fell for the shtick again.
On our first Valentines, back in University, we decided we "didn't do" Valentines because the Oxford restaurants all brought in expensive set price menus. We would move Valentines to the 15th, we decided, and go out for dinner then. Thus free from romantic obligation on the Friday night, we organized a college paint balling expedition. Which was

a great success, apart from the continuous trickle of people sidling over and congratulating us on our ability to still be friends – they all assumed we'd broken up quietly some weeks before.
The only year our saying that we "don't do" Valentines really worked out for us, we were in different countries. I was in New York with a play that I had written, Jon was in Warsaw, working at the university. I'd hidden a card somewhere blindingly obvious where he would find it, and he sent me a bunch of roses with the note "it's not so much fun not doing Valentines if we can't not do it together."
But if you are doing Valentines, and you are doing it together, these menu ideas will ensure that you're doing it right!
Valentine's Day Menu Ideas
Indulgent Romance
Before dinner 15 – 20 mins prep time – you're buying dessert and making pasta sauce that takes the same time to make as pasta does to cook
Tagliatelle Carbonara with a green salad
Strawberries and chocolate truffles
Serve with prosecco or champagne
Italian romance
Make ahead – 1/2 hour prep time and 1 hour baking time. Before dinner – 15 mins (cooking pasta, heating up the sauce)
Antipasti (bought – I'd suggest mini mozzarella balls, fancy olives, Parma ham, melon, breadsticks, fresh foccacia – whatever looks good)
Ragu a la Lady and the Tramp with a green salad
Serve with an Italian red wine
Sophisticated romance
Make ahead – 1/2 hour. Before dinner – 5 mins (put the fish in the oven, take the cous cous out of the fridge and scatter over the pomegranates)
The fish parcels can be prepared in advance then baked in the oven on the day. The cous cous can be served hot, warm or room temperature, so again, it's a prep ahead dish.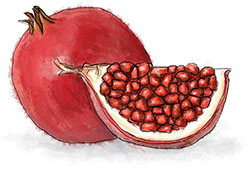 Valentines for a crowd
Make ahead – 1 hour – plus baking time for the slow cook tagine and brownies. Before dinner – 15 mins to make the cous cous and scatter over pomegranates and to dress the salad
Bowls of strawberries and pink and red individually wrapped chocolates
Serve with pink cocktails
Romance for people who don't cook at all
Living room picnic on the floor
French baguettes with brie, slices of fresh green apples, bowls of olives, tomatoes, cornichons, grapes
Chocolate truffles
Red wine
Dinner by candle light
Bowls of humus, taramasalata, flat breads, olives, tabbouleh, stuffed vine leaves
Dark chocolate broken into shards, almonds, figs, greek yoghurt drizzled with honey
Rose wine or pink champagne