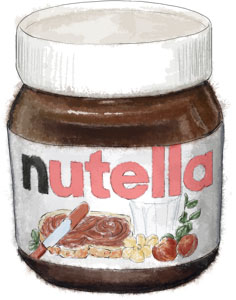 Have you heard about the phenomenon of Valentines break ups?
The office is a buzz with the topic, since we have in our midst a Valentine break up candidate in a moral dilemma.
He's known for a few weeks now that his relationship isn't going anywhere. And he'll have to man up and do it and tell her. But thus far, courage has eluded him. This presents a problem;
Is it better to break up with a girl leaving her single and alone on Valentines, or lie to her and celebrate Valentines, then do a 180 and dump her a few days later?
This moral quagmire is more widespread than I had previously been aware – two girls in the office had been broken up with within a 48 hour time period of V-day, one had been stranded with reservations at Pastis that she'd booked months in advance and ended up taking her brother, the other was stunned to be dumped a mere week after she'd been given overcompensating guilt gifts of two dozen red roses and a card with a teddy on it.
If you're in a relationship, you don't have any feeling whatsoever that it might be ending sometime soon, and you're planning to cook something for your loved one, you might prefer any of these posts: Valentines cocktails, Valentines menus, 10 things to do with a heart shaped cutter and breakfasts in bed.
But if you're newly single and feeling in need of solitary sofa-bound comfort, can I suggest this Nutella Bread Pudding?
Nutella Bread pudding (serves 4 – or 1 as dinner)
8 slices of slightly stale white bread (old brioche is good, sour dough gives a nice chewy texture, and croissants are awesome too. The fresher the bread is, the less time it should sit in the custard before being baked or it will go a bit claggy)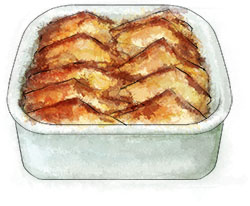 Nutella
½ cup sugar
½ cup cream
½ cup milk
1 tsp good vanilla
2 eggs
(optional – 1 handful of chocolate chips)
Pre heat the oven to 350 F
Make sandwiches out of the bread and the Nutella, then cut off the crusts and slice into triangle quarters
Line up the quarters in a baking dish so that they overlap each other (scatter over the chocolate chips if using)
Pour the cream, milk and sugar into a measuring jug. Beat in the eggs and vanilla.
Tip the custard mixture over the bread and press it down a little to soak the sandwiches in liquid (if this isn't a spur of the moment thing, leave the bread to soak for a hour, and add ¼ cup extra cream to the custard mixture to make sure there's enough)
Bake for 20 – 25 mins. Allow to cool slightly before eating – pouring in extra cream as you go