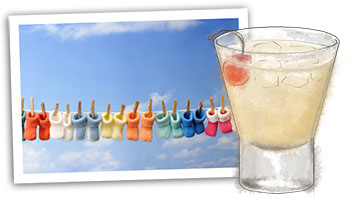 I slid the parcel across the wooden bar and Julia swiped it into her open purse with one hand, while with the other, she lifted the last sip of her whisky sour to her lips.
"That hits the spot," she sighed, signaling to the barman that she'd like another. "It turns out, since I had the baby my alcohol tolerance has gone way up. It might be nature's way of helping Mothers cope with teething."
We were drinking after work in a midtown bar that was heavy on the hard wood paneling and the ghost smoke of a thousand old cigars, while our husbands babysat C, singing gamely along to Thomas the Tank Engine and building towers with wooden blocks.
The thing was, I owed the delightful baby C, who suffered as a direct result of my unthinking actions. Some weeks ago Julia and I took him on an exciting adventure to Target, where he obviously noticed that his shoes were last season's hand me downs from a cousin and refused to keep them on his feet. I love shoes, and a sartorial shoe related crisis is something that I can relate to. I helped him pull them off, then I stashed them in my handbag for safe keeping.
Later that night, while out at a restaurant with Jon, I discovered the shoes still in my handbag. They were tiny, blue, with rabbits on the toes, downy soft to the touch, utterly perfect. As I held them I was hit with a monstrous wave of guilt: I had stolen shoes from a baby. I'd have to own up, come clean and give them back.
There's a scene in Sex and the City where Carrie goes to a baby shower and has her beautiful Manolo shoes stolen. This felt like almost the exact opposite of that.
Whiskey Sours
I'm a big fan of the whiskey sour, not only because of the maraschino cherry garnish, which I love inordinately and often try to persuade barmen to give me a few more of. The sour sweet combination of the lemon and sugar gives the smoky bourbon an elegant edge. It's the kind of drink you can imagine men in suits quaffing in old fashioned club lounges. I know that President Obama has form when it comes to Bud Light, and I certainly can't imagine him chewing on a maraschino cherry, but no matter, this still seems like a President's Day sort of drink to me.
3 parts bourbon
2 parts lemon juice
1 part sugar syrup
Shake over ice, then serve with a garnish made from half an orange slice and a maraschino cherry
And to go with the drinks, how about some classic bar nuts adapted from the Union Square Café?