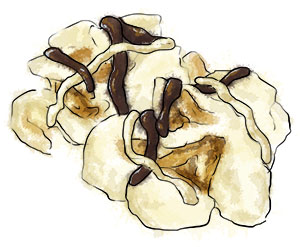 It's Oscar Week, which brings out conflicting emotions: excitement to see the dresses, and guilt that I haven't seen the movies.
This year has been worse than usual – I've only seen the 1. Social Network. Really enjoyed it. Couldn't believe the actor playing the twin wasn't a twin.  Still. That's not an impressive commitment on my part to experiencing the best that cinema has to offer.
So my heart was full of good intentions when my friends Wendy and Jess proposed a night out that involved a flickering screen and a vat of popcorn.
We could go and see Black Swan. We like dance films. Like Step Up. That sounded promising.
"No," said husband Jon. "Black Swan is not at all like Step Up. Not even like the darker and more gritty Step Up 2 the Streetz. It will give you nightmares, which means you wont get any sleep, which means I won't get any sleep."
Even though I'm British I haven't seen The King's Speech (I'm hoping nobody at the Consulate finds out). But Wendy and Jess had both seen it, so that was out too.
127 hours? Well, we all knew what happened in the end, and it was hard to get too worked up about the twists and turns of the narrative journey. The Fighter didn't seem entirely girl's night out appropriate, Inception sounded a bit too trippy, and the super worthy choice, a special screening of 3 of the Oscar nominated documentaries was, believe it or not, Sold Out.
"How about Justin Bieber?" wondered Wendy.
"Can we see it in 3D?" I wanted to know.
"Yes" said Jess.
And that was that.
Chocolate Popcorn
Nothing wrong with caramel corn. Nothing at all. But I naturally gravitate to salt rather than sweet in my popcorn choice. Luckily my husband is of the same mind, which makes us entirely compatible cinema goers. But, as one who considers a handful of roasted peanuts and a square of dark chocolate to be the Platonic ideal for an afternoon pick me up snack, I can attest that this chocolate-drizzled version hits all the right salty-sweet notes.
1/2 cup of pop corn kernels (makes about 10 – 12 cups when popped)
3 tbsp vegetable oil
1 tbsp salt
2 tbsp brown sugar
1 stick of butter
1 cup milk chocolate chips
1/2 cup of white chocolate chips
Tip the kernels into a pan, pour in the oil and half the salt (1tsp)
Cover the pan with foil – use serious heavy foil or do a double layer -  to make a lid and cut a few holes for the steam to escape
Hold the pan above the heat so that it gently cooks the kernels (about 4 minutes.)
(Or make some plain microwave pop corn)
Melt the butter and pour over the pop corn, sprinkling over the sugar and salt. Stir well to combine
Melt the milk chocolate and the white chocolate separately (over a pan of boiling water or in a microwave)
Tip the popcorn out onto a baking tray, then drizzle the two types of chocolate over to create an edible tribute to Pollock
Allow to cool and harden for a few minutes then enjoy
If You Can Make That You Can Make This:
Sweet and spicy popcorn
Scatter over crushed M&Ms whilst the chocolate is still wet
Or peanut M&Ms
Or mini marshmallows
Or dry roasted peanuts
Use just white chocolate and toss well to coat the popcorn in the white chocolate. It looks like popcorn and people get a lovely surprise when they eat it.
Switch up the chocolate combinations – dark chocolate drizzle is always a good thing
If you live in the UK and are lucky enough to get your hands on a Caramac you could melt that and add to the mix.