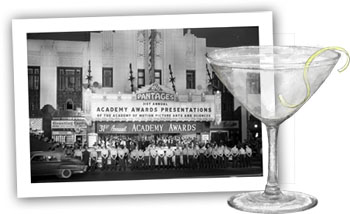 The Oscars are approaching, which is a great excuse to throw a formal get out the best glasses cocktail party. I love to get dressed up, buy in vats of ice, and prink about in the kitchen with some canapé action.
When I graduated from cooking school I had a very short lived job making canapés for a catering company. I hollowed out trays of cherry tomatoes then, very carefully filled them back up again with pesto. It was not exactly fulfilling work. In fact, it felt like the living embodiment of one of my Aunty Jennifer's favorite sayings; "life's too short to peel a grape".
But in the privacy of my own kitchen, I do like to put together finger food and fancy things up a little.
At a canapé party I usually work on the basis of 2 cold, 3 hot and something sweet – or 2 hot, 3 cold and something sweet, plus bowls of nuts, kettle chips olives and the like dotted about the place. I assume everyone will want to try at least one of every canapé. Probably 2. And triathletes, people over 7 foot tall, women who skipped lunch because they were in a meeting, will want at least 3. The great exception to this rule is the cocktail sausage – people eat a lot of those. Think 5 a person. No sweat.
When planning a canapé menu you're looking for a good mix of flavors and textures and food groups – something vegi, something meaty, something fishy, some filling things, some lighter things. You need to look at how much time you have for prep work, and how much heating up and putting together you can take on the night. The less the better as a rule.
A lot of canapés are based on the idea of one star ingredient + something convenient to put it on.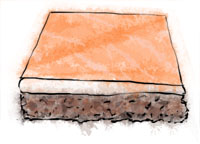 For example, if smoked salmon was the star ingredient you could butter great brown bread and put it on that with a squeeze of lemon. Look at it in your minds eye: a layer of brown topped with shocking pink. Beautiful. Could it do with a frond of dill on top? Perhaps.
Or you could take that same smoked salmon and drape it on top of a toasted crostini, maybe rubbed with some garlic and spread with a thin layer of cream cheese and a good grinding of black pepper.
Or on a blini dabbed with sour cream.
Or on a slice of cucumber dabbed with crème fraiche and a squeeze of lemon.
Or on a rosti dabbed with sour cream.
All of these options give a different tone to the canapé, which is worth thinking about for a moment before you put one on your menu.
The brown bread is classic. It can be made in advance and served cold. It's a great option for a party, though it's a simple presentation. If you're going for all out fancy maybe you want to take the idea further.
The crostini tends to look a bit more rustic. You might want to serve the base warm and then top at the last minute – that might not be so convenient for a party, but it's not an especially tricky option.
Making blinis takes time but they can be done in advance and they look impressive. You could also buy them (which I most often do) in vacuum packs (very handy to have in, and they keep for months). They need heating and topping at the last moment, but they look so fancy, they're worth the effort.
Rosti fall into the same category – they're pretty easy to make, though they take time in advance – and you'll certainly reap the rewards when you eat them.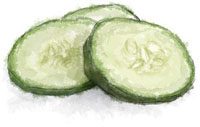 The cucumber option is worth serious consideration – carb free for people who care about such things – beautiful on a platter and fresh and zingy to eat, they can be made in advance and served cold with very little effort.
So when I'm thinking about a menu these things run through my mind and I wonder: do I want the salmon to be on something hot or cold? If it's really good quality then it might be better showcased chilled. So that's a choice between brown bread or cucumber. Bread is the classic serving, but cucumber is going to look fresher on the platter, and it's going to taste a bit zingier in the mouth. People probably won't have tried it before, so that makes it more fun, the creamy topping is a little more luxe, and this is an Oscar party – I can go heavy on the luxe at the expense of tradition so I'd pick the cucumber option.
And to drink? How about a gin martini for some old Hollywood glamour?
Gin Martini
Pour a tsp of vermouth into a chilled cocktail glass, swill it around and tip it out
Pour a measure of cold gin into a glass of ice cubes. Count to twenty then strain into the cocktail glass.
Serve with a twist of lemon