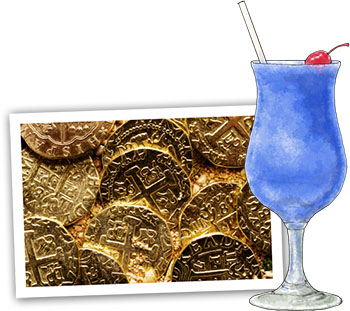 The weather in New York is hardly the semi tropical heat wave of last year, where my family celebrated my sister's birthday at an out-door table in Pastis and walked along the Highline in our sandals. Nevertheless, circumstances have conspired to put me in a tropical frame of mind.
Pirates of the Caribbean Sequel Something is coming to a cinema near you, and – and this is what makes it really exciting – to a cinema near me and my husband.
What can I say? We like pirates. We like to use the word "swashbuckle" in conversations. And, dangerously into the territory of theme dressing here, I have a parrot broach that I like to wear on a jacket with my Breton stripe top underneath. Stealth pirating in fact.
It's a tribute to the extreme appeal of pirates that either of us can look one in the face. Our last summer at University I directed a production of Pirates of Penzance at the Buxton Opera House. Jon, ever willing, stage managed it. My particular innovation was to open with a black light puppet sea battle on an epic scale. This took a lot of stage managing. Add to this a cast that sometimes posed a real life battle – But we usually do it this way etc – and it wasn't the easiest show I'd ever been involved with.  In retrospect the longevity of our relationship looked a good bet given that Gilbert and Sullivan didn't break us up.
And now, Pirates of the Caribbean is on the horizon, bringing with it excitement and rum cocktails. Paper umbrellas are ready and waiting. Sunshine is a state of mind.
Blue Pina Colada (per glass)
This cocktail switches out some coconut to make room for blue curacao. This means, to state the obvious, you get a blue cocktail. Obviously, this is brilliant!
2 oz pinapple juice
1 oz rum
1 oz crème de coconut
1 oz blue curacao
ice
Maraschino cherry to garnish
Pour the ingredients into a blender with a handful of ice and blend to combine.
(Or shake the ingredients over ice for an ever so slightly more sophisticated cocktail – but, who are we fooling, it's blue. It's not supposed to be elegant)
Mango salsa wonton bites (serves 4)
12 – 16 wonton wrappers (I'm guestimating 3 or 4 per person)
1 mango
1 green chili
1 bunch of cilantro (about 1 tablespoon when chopped)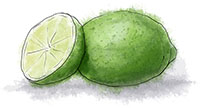 1 lime
2 scallions
Salt and pepper
1 egg
Vegetable oil
Pre heat the oven to 400f
Dice the mango into small cubes.
Mix with the chopped cilantro, the finely chopped green chili (to taste) and the chopped scallions
Squeeze over the juice of half the lime and season well
Crack the egg in a bowl and whisk to break it up
Lay a wonton wrapper on a flat surface and dab about 1/2 tsp of the mango mixture in the middle
Use your finger or a pastry brush to dab egg around the edges
Fold the disk in half to make a triangle enclosing the mango, then press down the edges pushing out the air and sealing the parcel shut
Repeat until you've made all the parcels
Brush with a little vegetable oil
Bake for about 5 mins until crisp
If You Can Make That You Can Make This
Swap out the mango for fresh pineapple
Add a cube of mozarella – not authentic, but really delicious
Or make these mango chutney mozarella wonton parcles
Or these pizza bites