Did you have a good long weekend? It's such a lovely feeling to be at Wednesday already, gearing up for mid-week drinks. If only all Mondays could be spent sitting on the balcony reading Marie Claire and planting out the rosemary.
When I was a teenager, bank holidays were the Greatest Thing Ever. Hordes of adolescents would descend on Kingston and sit around outside pubs on the river drinking shandies. After a drink or two people would get brave and admit their secret crushes, then their friends would gossip about the secret crushes, and soon, everyone including the secret crush would know. Oh the drama. He knows I like him. So if he comes over to sit by me does that mean he likes me to or is he just sitting? Such are the complexities of teenage romance.
Here's one thing that I didn't know when I was a teenager, and I wish I had; if a boy sends you a letter with "love" at the end that's not an accident; he Likes you.
Hope that clears things up a bit.
So I'm almost automatically programmed to want a lager shandy, which is simply lager with a splash of lemonade in it – I do about ¾ lager to ¼ lemonade, but I think ½ and ½ is what you'd get if you ordered it in a pub. I also like to add ice cubes and a squeeze of fresh lemon juice.
It's lucky then, that my long weekend inspired the perfect snack to go with a cold beer.
On Saturday Jon and I met up with friends Ingyin and Yosi, back from Abu Dhabi, and went to Smorgasburg, the new foodie Brooklyn Flea in (where else?) Williamsburg. It was by the river in a desert of tarmac, utterly devoid of shade, crammed with people lining up for pulled pork and bitching about why all the ice coffee at the coffee stall was pre sweetened;
"I'm from Manhattan, I just want my coffee the way I want it. It's like when you go out for a steak and you want it well done and the chef won't cook it. Don't you be telling me that it's better this way, that it preserves the integrity of the taste. I know what tastes good to me! Chefs I can kinda take. It pisses me off but I can take it. But Baristas? Hell no. See, now I'm crabby. I really need a coffee!"
We ate chicken sandwiches, Meat Hook hot dogs, plantains, cold noodles from Short Tang and Sons, shrimp wontons from Bite Sized Kitchen, ice creams, and Peoples Pops, and I can recommend them all.
Then we walked home via a "loft sale" where Ingyin bought some swords, and I developed the kind of sunburn that makes people wince to look at you.
But of all the memories of that day, it's the sample of lemon mayonnaise that I had from Empire Mayonnaise, (http://empiremayo.com) that I keep coming back to. I should have bought some. It was so delicious and tangy and someone else washed up the blender. But now it's stuck in my mind, I'm going to have to make some and drag the cuisinart off the top shelf of the bedroom cupboard (NY living, right there). Ah well, small sacrifice for ambrosial taste.
Hot Potato Wedges and Cold Lemon Mayonnaise (serves 4)
Let's start with the mayo
2 egg yolks (at room temp)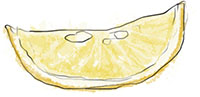 1 tsp mustard (not grain – it looks spooky)
75ml olive oil
200ml vegetable oil
About 1 tbsp lemon juice
Salt and pepper
People who have never made mayo tell me that they are nervous because it's inevitably going to split. I've been making it for 13 years, and it never has. But if it does, folklore says whisk in an ice cube and that should fix it. But positive thinking. It won't spilt. It won't.
Blend the yolks, mustard and a pinch of salt and pepper
While blending, add the oil in a light steady stream
Scrape into a bowl
Add the half lemon juice and taste then adjust, adding more until you like it – mayo also usually needs a touch more salt
(You can also make the mayo by whisking the eggs, then adding the oil patiently drop by drop whisking the whole time – it's helpful to do this with another person – one on whisking one on oil.)
Now for the potatoes:
4 baking sized potatoes
2 tbsp vegetable oil
salt
good pinch of dried rosemary
Pre-heat the oven to 400f
Slice the potatoes into wedges, then toss with the vegetable oil, salt, and rosemary
Spread on a baking tray and roast for 25 – 30 mins until crisp (check after 20 if the wedges are spindly or small – the chunkier they are the longer they take to cook)
Dip into the mayo
If You Can Make That You Can Make This
Add roasted garlic to the mayonnaise
Or lime juice and zest instead of the lemon
Or crushed anchovies and capers
Or chopped fresh herbs
Or a tsp of harissa paste
Or some fresh pesto (great mixed with cold potatoes or cold chicken)
Make this potato salad
Or this chicken salad (which makes delicious sandwiches)
Or a butter sauce
Or a classic Bearnaise