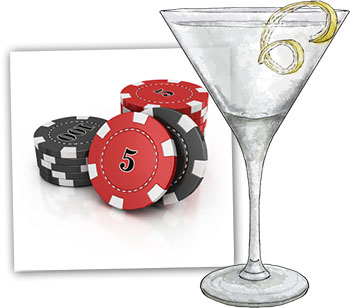 "The best cocktail I ever had" sighed Yosi, "was a Vesper."
We were into day two of our Malaysian restaurant week celebrations, which started with dinner at Laut and had moved into lunch at Fatty Crab. Naturally, given the hedonistic circumstances, thoughts had turned to alcohol, and whether our afternoons at work would facilitate us getting away with it.
"It was made for me by a professor of philosophy in Abu Dhabi. He had an amazing drinks cabinet in his apartment, with literally every alcohol you could think of, every mixer and every kind of glass. He had shakers and strainers and some powder that emulsified liquids – it was a very serious operation. And he invited us for pre-dinner drinks and handed out menus that he'd had made for his home bar. They were bound in leather."
This, basically, is the life I aspire to.
"We'd all recently seen the movie Casino Royale, so he decided to make us Vespers. The description of the cocktail was the best thing about the movie, and the cocktail was the best cocktail I ever had."
Something about this account really intrigued me. Perhaps it was the perfect image of a philosophy professor with a martini glass in one hand and a copy of Kant in the other. Or perhaps it was the location, the notion that outside his window the literally and figuratively dry lands of the desert stretch Kublah Khan like into the distance. Either way it was magical.
So that night, Jonathan and I set out to make the Vesper.
Here's Bond's description of it from the 1953 novel; "three measures of Gordons, one of vodka, half a measure of Kina Lillet. Shake it very well until it's ice cold, then add a large thin slice of lemon peel. Got it?"
And some advice about drinking it; "I never have more than one drink before dinner, but I do like that one to be large and very strong and very cold and very well made."
Well, the Gordons we had in the cupboard and the vodka was in the freezer ready to go, but the Kina Lillet? It turned out to be a French aperitif wine, beloved of Hannibal Lecter, apparently, and it was available in our local wine shop. Job done.
But all that alcohol needed a substantial snack to go along side. Bearing Abu Dhabi (fig capital of the world) in mind, this is what I came up with.
Bacon roasted figs (people tend to eat 3 or 4 figs each – this recipe is for 1 fig)
1 dried fig (the figs I buy in zip lock packs tend to be soft, the ones I buy from my local spice shop tend to be much harder – if your figs are really hard, soak in warm water for 5 mins until they soften)

½ slice streaky bacon
Pre-heat the oven to 400 f
Lay the bacon flat on a cutting board and use the flat of your knife to stretch it and think it out (the motion is like spreading butter)
Roll the fig in the bacon and secure with a wooden pick
Roast on a baking tray for 10 – 15 minutes until the bacon is crisp