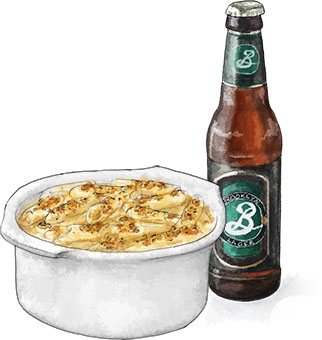 Partly it started because my sister Sarah and her boyfriend Matt came to stay with us in New York from London. Sarah is a wine buyer, so we left that bit up to her, while Jon went zooming off to the shop to pick up the ingredients for gin and tonics, margaritas, seabreezes and lots and lots of beer.
Then, of course, we ended up mostly going out and now we have a fridge with more beer in it than food, which is not the usual way of things by any means.
And then Adam brought his brand new boyfriend (stealth dating for a little over a month) to say hello, and I made truffle mac n cheese in an attempt to out-do Jon's incredibly and universally successful signature dish. It was basically his recipe, with added truffle oil at the end. And I took all the credit.
So there was enough mac n cheese left over to feed a boat-load of rowers (yay Oxford on an awesome Boat Race, BTW!), and enough beer to render them unconscious. So basically, it's been a good week.
Truffle Mac n Cheese (serves 6, generously)
1 lb pasta (I use campanelle, which is slightly ruffled in a way that reminds me of an oyster mushroom, but by all means use macaroni if you prefer)
3 tbsp butter

3 tbsp flour
3 cups milk
1 clove garlic
1 bay leaf
¼ tsp nutmeg
2 cups of wild mushrooms (or crimini if you can't find a good mixture)
1 tsp truffle oil
2 ½ cups grated sharp white cheddar
1 cup grated gruyere
½ cup grated parmesan
Salt and pepper
Pre heat the oven to 370
Put on a pan of water to boil. Once it is boiling, add the pasta, salt generously, then set a timer for two minutes less than the cooking time on the box – we're going for very al dente
Pour the milk into a small pan (or microwave jug). Add the garlic clove (peeled) and the bay leaf, then heat until just simmering. Now fish out the garlic and bay leaf
Melt the butter in a pan, then stir in the flour. Mix together into a paste, and cook for 2 mins
Add the milk in a few batches, stirring in the flour butter paste – I use a little whisk
Cook the sauce until it thickens and coats the back of a spoon. Season with salt, pepper and the nutmeg, then add the cheese (reserving a little of each to sprinkle on the top) and cook very gently until it melts
Brush the mushrooms to clean. Chop them, then fry them in a tsp of butter and a splash of olive oil until they are browned. Season well, then stir in the truffle oil.
By now the pasta should be ready. Drain and run under the cold tap to get rid of the starch – it makes the sauce smoother in the end
Toss the pasta in the cheese sauce and add the mushroom mixture. Truffle oils vary tremendously in strength, so have a quick taste – you may need to add more
Tip into an oven dish, top with the remaining cheese (or just grate some more over) and bake for 30 mins
Just before serving, carefully sprinkle a few drops of truffle oil on the top (seriously, carefully – too much truffle oil is not especially pleasant)
If you like a crunchy topping, sprinkle ½ cup of breadcrumbs over the top of the pasta along with the cheese before baking
If you can make that you can make this: