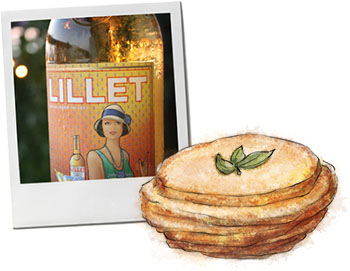 There are places to go to in New York when you want to pretend that you are in Paris.
Jean Claude on Sullivan Street springs instantly to mind, Balthazar of course, and Pastis, which is where I met my friend Hilary for lunch, girl talk and drinking right up to the line of too much in the middle of the afternoon.
I was running late, very late, because I had decided to re-take up swimming and had severely underestimated the amount of time it would take me to do 20 lengths. Of course I wasn't wearing my contact lenses for fear they would splash out into the water, so I couldn't see the clock. Genius.
Harried, damp and disheveled I dashed into the restaurant to find Hilary relaxing with a drink. "I'll have what she's having." It was Lillet Blanca.
"It reminds me of Paris," said Hilary, who went to the City of Light for her birthday and has a framed menu from her favorite restaurant there signed by the chef on the wall of her living room.
That's a lot of Paris memory for a drink to evoke.
One sip. Cool wine, spicy oranges. She was right. It was Paris.
Lillet Blanca
Lillet Blanca, established in 1872 no less, is a golden citrusy aperitif wine that's made near Bordeaux. It's the magic ingredient in a vesper cocktail, but it's also perfect just the way it is.
Buy it. Chill it. Pour it over ice. Add an orange slice. Drink.
Pommes Anna (makes 12, which should serve 4 – 6 people)
Pommes Anna are generally thought to have been the invention of Duglere, a pupil of Careme (the French celebrity chef du jour) at his restaurant Café Anglaise. He never revealed who the eponymous Anna was – there were several possible candidates.
The dish is usually made in one small pan, then cut into slices and served with meat as a main course. In fact, there are special Pommes Anna pans consisting of two copper pans built to sandwich neatly together, and I spent some time on my honeymoon lusting after them in a cookware shop in Paris.
This version was suggested to me indirectly by Hilary, who both made me Pommes Anna for dinner one night, and then bought me the Martha Stewart Hors d'oeuvres handbook for my birthday last year. In this book, Martha suggests "Pommes Annette", Pommes Anna constructed in a muffin tin into mini bites. Since this is the way I habitually cook rosti, it all made sense to me.
This recipe is a combination of Martha's method and the recipe in my Cordon Bleu cookbook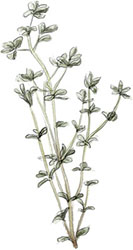 2 tbsp butter (room temp)
1 tbsp butter (melted)
12 sprigs thyme
1 tsp fresh thyme leaves
12 fingerling potatoes (or another firm potato like Yukon)
Salt and pepper
2 muffin trays
 
Pre-heat the oven to 350f
Slice the potatoes thinly (if you have a mandolin its moment has arrived)
Brush one of the muffin tins with the melted butter, and put a sprig of thyme in the bottom of each cup(this will be the top when the potatoes are turned out, so it will look really pretty)
Spread each slice of potato with the soft butter (both sides, yes it's a bit messy) and scatter over the thyme leaves
Layer into the muffin tin, seasoning as you go (if the potatoes are too large for the tin, cut them to size with a cookie cutter)
Brush a piece of parchment paper (or foil) with melted butter and lay over the top of the potatoes butter side down. Put the second muffin tin on top and press down. Put a casserole dish on top (or a cast iron pan, something heavy and oven proof) and bake for 30 mins
Remove the weight, the muffin tin and the paper, then bake for another 10 minutes until golden and crisp
Let the potatoes cool for a few minutes before easing them out with a knife and serving
These are especially good served alongside some soft goat cheese for impromptu spreading
If You Can Make That You Can Make This