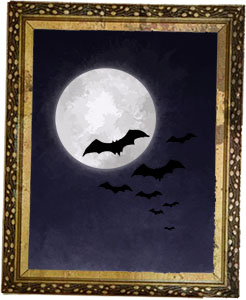 If you're planning on dressing up as any of the following: sexy kitten, sexy devil, sexy cowgirl, sexy bunny, French Maid, Dominatrix, you don't need to be worrying about making lamb stew.
Seriously. Cheese and crackers is plenty. This post is not for you.
But I am dressing up as the mini Darth Vader in the car advert, so I will have to try a little harder (is this costume any cuter than last year's Chilean miner? Possibly.)
Since having Halloween on a Monday this year brings the whole weekend into play, I'm thinking dinner party as well as dinner a deux.
Here's my plan:

Satan's Whiskers cocktails, roasted pumpkin seeds and devils on horseback
•  •  •
Simple green salad with walnuts, blue cheese and cranberries, tossed with a little balsamic and olive oil. (I'm serving this on individual plates and hiding a plastic spider on each one.)
•  •  •
Lamb stew with pumpkin.
•  •  •
Oozing pus chocolate cup cakes.

Now the lamb stew is darkly elegant. It really is. So it's a bit of a shame that I thought about the eyeballs really, and that having thought about them, I just couldn't help myself from including them here and lowering the tone.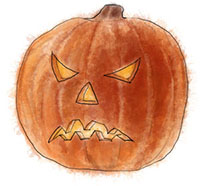 I'm using a pair to garnish the stew, so when I take the lid off the pot at the table, I'm making a Halloween statement. It's just for fun, though of course they're edible. I've eaten them myself as a matter of fact, in a Chinese restaurant in Flushing. And they were fine. Not gourmet delicious, I must rush back and eat them again, nothing will satisfy my craving! But fine. In a foamy, chewy sort of way. And they certainly add a gross-out touch to the stew, which you may or may not want. A Halloween dinner party with a group of friends? Sure. Dinner for two by the fire, pre reading ghost stories and sipping red wine by candlelight? Probably not.
Pumpkin Lamb Stew (serves 4 – for 2, take out 2 lamb shanks, for 6 add 2 more)
This recipe comes from a page that I tore out of the Sunday Times Magazine some (10?) years ago, written by Tom Norrington Davies. I've been making adaptations of it ever since, mainly because I spilled red wine on the bottom of the recipe and can't exactly read what it says.
I'm sure though that he would not endorse the whole eyeball business, and I can assure you, that part is all me, all my fault. Sorry Mr Norrington Davies.
The sweet pumpkin and the sweet lamb make it a very comforting spoon fed kind of supper. I make it a lot on cold weekends, when Jon and I sit on the sofa watching Poirot and eating out of bowls. But for entertaining, I use lamb shanks, which have more of a sense of occasion about them. Also, bones, which is always good for Halloween, I think.
I squeeze in the juice of a pomegranate (halved then squeezed in my hand) to sharpen things up right at the end. Lemon juice also does the trick.
4 lamb shanks or 500g lamb shoulder cut into bite sized cubes
500g peeled de seeded pumpkin
2 onions
4 cloves of garlic
1 tsp salt
200ml white wine (if you're cooking 6 shanks, add 350ml wine)
100ml water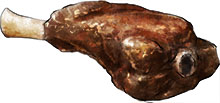 Sprig of rosemary
2 cinnamon sticks
1 tsp cumin
A fist full of fresh parsley
1 pomegranate or 1 lemon
Olive oil
Salt and pepper
2 eyeballs (totally optional)
 
Preheat the oven to 300f
Season the lamb well, then brown in a hot pan that you can put in the oven later – cast iron strikes again – with a splash of olive oil for a few minutes per side Transfer to a plate to free up space in the pan
Slice the onions finely and add to the pan, with a splash more olive oil. Heat gently until soft (about 5 mins).
Meanwhile, chop the pumpkin into bite sized chunks
Once the onion is soft, grate in the garlic, pour in the wine and scrape up all the bits from the bottom of the pan to incorporate them into the sauce
Put the lamb back in, add the pumpkin, cumin, rosemary, cinnamon and water, then bring everything up to a boil to get the stew started
Put the lid on the pan and put in the oven for 3.5 hours – don't stir it unless really necessary or the pumpkin will break up
If you're adding eyeballs, put them on the top of the stew 2.5 hours into cooking
Once the stew is cooked, squeeze over the pomegranate (if a few seeds fall in, that's all to the good), and scatter over some chopped parsley

If You Can Make That You Can Make This
Add a handful of dried stoned prunes 2 hours into cooking
Leave out the pumpkin and add a can of drained rinsed chickpeas ½ before the end of cooing time
Replace half of the pumpkin with butternut squash
Replace the white wine and water for 450 ml of red wine and half a can of tomatoes.
Replace the white wine and water for 450ml red wine and half a can of tomatoes, but also add a sliced stick of celery and a couple of carrots to the pot when you cook the onions, and leave out the pumpkin, cumin, cinnamon and pomegranate. Half an hour before the end of cooking time, add a drained rinsed can of cannellini beans
Use rose wine instead of the wine water combo, leave out the pumpkin, and serve scattered with mint, pomegranate seeds and crumbled feta