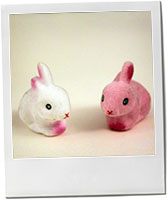 When my sister was little she had a pet rabbit. It was probably the best rabbit in the entire world, we thought. For example, it once peed on an ex boyfriend of mine.
The only other rabbit who could possibly come close was owned by my sister's friend Alex. These two rabbits were brothers, and the only way the untrained eye could tell them apart was that Alex had taught his rabbit to do tricks like sitting, staying, hopping and wriggling his nose.
If our rabbit had to lose to any rabbit, it would have to be Alex's rabbit.
But would the judges at the New Malden Pet Fair feel the same way?
Brushed, groomed and ready for action, the rabbits were bundled into show cages, and my sister and Alex anxiously fretted, pacing up and down with their hands folded behind their backs like expectant grandfathers, while a terribly serious group of judges cast their expert eyes over the line up.
Then the moment of truth: rosette time. I think this picture pretty much speaks for itself.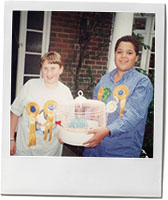 So it was with great happiness that I saw the following in a County Fair Program: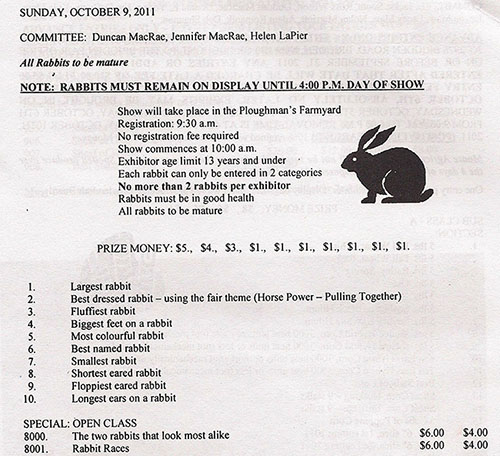 Pretty much every rabbit a winner.
"We should buy a rabbit and go to that fair," said Jeremy. We Should! We decided. We should win $2, $5 or even $8 for our victorious pet entry. "And even if it's a defective rabbit, we can still win best name!"
Entries on the back of a post card please, and a very Happy Easter to you.
Chicken with lemon herb butter (serves 4-6 depending on the size of the chicken)
Easter Lunch should be a highly springy affair. Also, I'm genetically programmed to believe it should include roasting. When I was a child Easter lunches were often spent in Jersey, where we would eat roast lamb at Apple Cottage before going home to devour our chocolate eggs. I've written about roast lamb here, but for a change, and for something a little more budget friendly, I'd like to suggest this simple roast lemon chicken.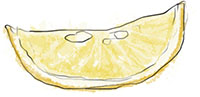 1 chicken
4 medium onions or 8 shallots
1 small lemon
¾ cup dry white wine
3 tbsp soft butter
½ tsp chopped fresh mint
½ tbsp chopped fresh parsley
6 cloves garlic
Salt and pepper
 
Pre heat the oven to 325f
Peel and quarter the onions or peel and half the shallots and lay them in the middle of a roasting tin. Scatter the cloves of garlic (unpeeled) around and put in the wine
Mix the butter with the parsley and mint, grate the zest from half the lemon and one clove of garlic. Season well
Rinse the chicken (inside the cavity too) then pat the skin dry with a paper towel
Poke under the skin on the chicken carefully, and slide in the herbed butter. Rub the outside of the chicken with the remaining butter and sprinkle generously with salt
Chop the lemon into quarters, squeeze inside the cavity, then stuff inside – don't pack them in, then place the chicken on top of the onions, which act as a natural trivet
Roast for 60 -90 mins, depending on the size of the chicken. It must be 180 in the thigh.
Let the chicken rest for 15 minutes. Meanwhile, mush the garlic into the pan juices and stir to combine. Carve the chicken and serve the pan sauce over the meat
Serve the chicken with some boiled new potatoes with lots of butter, salt and chopped fresh mint, and a bowl of blanched asparagus and sugar snap peas
If You Can Make That You Can Make This