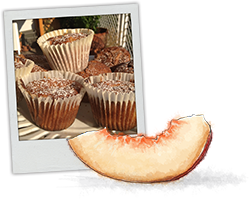 We were out watching whales. Far too early in the morning, somewhere off the coast of Gloucester, scanning the horizon for spouts of air, or the flash of a tail, or a body breaching out of the water.
"Here's potentially looking at you kid," I said hopefully, as literally nothing continued to happen.
"They're coming" said Jon, ever the optimist. "You might not be watching any whales right now, but think about how many whales might be covertly watching you."
Ingyin nodded, and made the gesture so beloved of gangsters, pointing to her own eyes with two fingers then reaching out over the ocean. "Bring it whales."
And as if by magic, the whales brought it. A mother and baby swam alongside the boat, turning and playing in the waves. A fin whale played up to the cameras, flashing his tail, diving under us and popping back up again in a splash of salt water that sprayed our faces. Minke whales spouted in the distance. "Humpback whale, 10 o'clock!"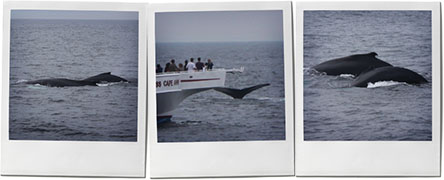 It was utterly wonderful, totally worth the early start and the missed breakfast.
"We're having a lie in tomorrow," Jon put his foot down. I was up for a repeat whale watch. But breakfast on holiday, that unhurried sunny brand of relaxation when the day stretches in front of you filled with possibilities, is always a treat, and this particular holiday breakfast – warm muffins and coffee and a rocking chair on a porch – especially so.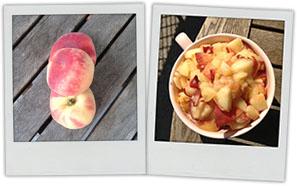 The farm stand on the way back to New York was groaning with peaches, and these muffins seemed like the perfect way to recreate a sunny holiday memory in the bustle of the city. No porch, no rocking chair no problem – they make a delicious breakfast in bed.
Peach sour cream muffins
1 cup chopped peaches (I used 4 donut peaches, and I generally leave the peel on)
1 ¼ cup flour
¾ cup sugar (I use half white and half light brown sugar)
1 tsp baking powder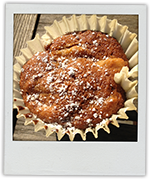 ½ tsp baking soda
½ tsp cinnamon
1 tsp good vanilla extract
¼ tsp salt
½ cup vegetable oil
½ cup sour cream (or yogurt)
2 eggs
 
Preheat the oven to 350f
Measure the flour, sugar, baking powder, baking soda, cinnamon and salt into a bowl
Measure the vegetable oil, sour cream and eggs into a jug and whisk to combine
Add the peaches to the flour bowl and mix to coat, then pour the egg mixture over and stir to combine
Spoon into muffin cases (or a loaf tin) and bake for 35 minutes (or 45 – 50 mins for a loaf cake) covering with foil if the muffins start to brown
If You Can Make That You Can Make This
Switch up the peaches for bananas, nectarines, plums, apples, or pears
Add a couple of handfuls of raspberries to the batter
Make a crumb topping by mixing together equal parts flour, sugar and butter and a pinch of cinnamon until the mixture forms sandy clumps, and top the cake / muffins before baking
Try this chocolate banana loaf cake
This spiced apple cake
Or this lime glazed coconut pineapple cake