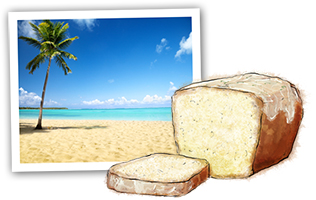 Jon's iPod shuffle, which has a flair for spontaneously coming up with the perfect life soundtrack, triumphed again this week. He emerged from the subway uptown to meet me grinning all over his face; "I really did take the A train, and it really was the quickest way to Harlem!"
Meanwhile, my iPod is trying to compensate for the chilly spring weather. As I stepped out of my building this buttoning up my coat, shuffle gave me Copacabana followed by Yellow Bird.
The early morning mist pouring down the subway steps could not dampen my mood – my hair, sure, hello frizz, but not my mood, which remained distinctly tropical.
Pineapple, Coconut and Lime Loaf Cake
1 cup fresh or canned pineapple chunks
½ cup dried coconut
1 lime
1 ½ cups flour
¾ cup sugar
1 tsp baking powder
½ tsp baking soda
½ tsp salt
2 eggs
½ cup vegetable oil
½ cup plain yogurt
 
Preheat the oven to 350f
Dice up the pineapple into small bite sized chunks, and drain in a sieve for a few minutes to dry out a little
Mix the pineapple, coconut, flour, sugar, baking powder, baking soda and salt in a bowl
Mix the eggs, yogurt, oil into a jug, and grate in the zest of a lime
Pour the wet ingredients into the dry ingredients and stir to combine
Butter a loaf tin and pour in the cake batter
Bake for 55 mins until golden brown
Lime Glaze
1 cup confectioner's (icing) sugar
1 tbsp lime juice
1 tbsp milk or water (if needed)
1/2 fresh lime
 
Sift the icing sugar to get rid of lumps
Stir in the lime juice. If the glaze is still stiff, add milk or water drop by drop until you have a pouring consistency
Pour over the cooled cake, and decorate with lime zest
If You Can Make That You Can Make This
Use apples instead of pineapple to make an apple cake, swapping out the lime for a tsp of vanilla, and the coconut for ½ a cup of walnuts and ½ a cup of sultanas
Or try this apple loaf cake
Or these banana muffins