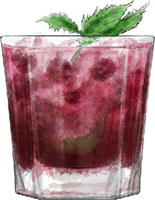 Do you ever find yourself looking at an apple and thinking: you're too perfect to be a real apple, you look like the apple in Snow White? Or at a pineapple and thinking: should I eat you, or would Chiquita Banana be offended that I ruined her hat?
This might be just me, I concede. But having gone this far in confessional, I'm just gonna come out and say it: I never eat a cherry without worrying that it might be prop food.
Especially cherries that come in pairs.
I had a pair of pair-of-cherry earrings, as it were, that I wore with my matching cherry print swing skirt to the Headlands Hotel disco when I was a child. And sometimes I would look at them in all their plastic glory and think: you're too like cherries to be plastic. And I'd give them a little lick just to make sure.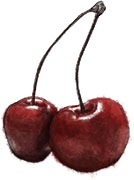 Cherries are fruit in a children's book. Somehow too Hollywood to be true.
Because I have just finished writing a romantic comedy – something of a cherry version of life, I suppose – we were talking about our favorites. Lots of votes for When Harry Met Sally. Lots of Votes for Bringing Up Baby. And I mentioned Crossing Delancy, a movie that I was a tiny bit obsessed with as a teenager, along with – odd mix – Heathers.
If you don't know it, it's totally worth watching, and explores one of life's most pressing conundrums: can a Great Grandmother persuade an Uptown Girl to find happiness with an Old Timey Pickle Seller?
"It turns out," said Yosi, "that my grandparents actually met crossing Delancy."
We pressed him for more details and learned about a romance that went something like this:
His Grandfather had a garment store on the Lower East Side, and every morning as he was opening up he would see this beautiful woman crossing Delancy Street on the way to the office where she was a bookkeeper. Every day, he'd watch her, and smile at her shyly, and eventually he plucked up courage to talk to her, and the rest is history.
Take that, Hollywood.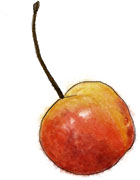 Cherry Mojitos
This is a Hollywood fantasy of a cocktail – it's almost too deep vivid red to be real, too set-decorated with lime and mint to be true, and yet, happily, it is.
This recipe is adapted from a New York Times 3 ingredient cocktail article, but since I have mint growing like a weed on the balcony, I took it more in a mojito direction by making a mint simple syrup and adding that to the base of the cocktail.
This is a really useful blueprint recipe for all kinds of summer fruit variations – I've had recent successes with strawberries, passion fruit, and especially raspberries.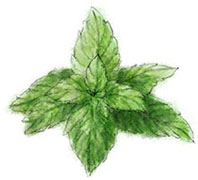 For the mint simple syrup
You can add this to regular mojitos, to frozen mint juleps – it's a useful syrup to have in the fridge, and it will keep for a good month or so.
2 large handful of mint leaves
1 cup sugar
1 cup water
 
Put everything into a pan and cook gently, swirling the pan until the sugar is dissolved
Let the syrup cool – and leave the mint steeping for a day before using (unless this is a cocktail emergency, in which case, add a bit more mint, cool and drink)
Cherry Mojito (per glass)
5 ripe cherries
2 measures white rum
¾ measure of mint simple syrup (to taste)
½ a lime cut into quarters
Ice (about 6 regular cubes)
Mint to serve
 
Muddle the cherries and lime in a shaker, really pressing to get out the juice
Add the rum and ice and shake vigorously to break up the ice and mix the drink
Serve in a rocks glass with some fresh mint
Make this a longer drink by adding soda