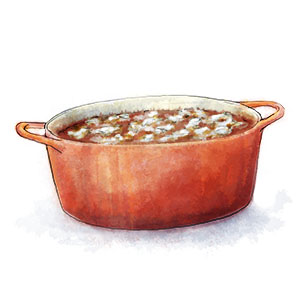 As Fall colors start to paint the country in shades of fire, two friends of our recently returned from a hiking holiday, which they described in glowing terms apart from one small setback:
"It was beautiful, and we probably climbed a bit further than we should, and then we realized it was getting dark, and really quickly, it was totally pitch black and we couldn't find the trail," explained Ben.
"So we decided that the best thing to do was to stay put, and sleep under a bush for the night. It was pretty bad, but on the bright side, that part of the woods doesn't have bears, so at least we couldn't get eaten by bears."
I was horrified. "They slept under a bush?" This is not my idea of a holiday.
But Jon was more stoical; "yes, but, on the upside, no being eaten by bears."
This did not strike me as much of an upside.
Days later, the idea had clearly caught Jon's imagination.
"Did you buy milk on the way home?" I asked.
"I forgot. Sorry. But on the bright side, I didn't get eaten by bears."
The thought left him feeling grateful, contented, filled with optimism and with whatever the opposite of disgruntlement is. Gruntlement, I suppose.
"That's the Saturday movie schedule not the Sunday one, and Diana Vreeland started already," I'd whine.
"Still, on the bright side, we're not currently nor are we likely to be eaten by bears."
It puts things into perspective, I suppose. We accidentally pressed the red button. Nuclear Armageddon is imminent. But on the bright side …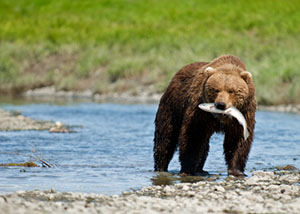 Chicken with Feta (serves 2 – 4)
Assuming you haven't been eaten by bears, this is the kind of dinner that you'll want to eat upon returning from a walk in the woods. Or upon returning home from work on a Wednesday night, frankly. It takes very little time to put together, then sits in the oven being all warm and cosy, making  a house really start to smell like a home.
This is a very adaptable chicken stew – you can add a can of drained chick peas to bulk it out if necessary, or add a few handfuls of rice or orzo for very hungry people. I often add a handful or two of kale right at the end and let it wilt down into the rich tomato sauce. You could also add black olives, fresh cherry tomatoes, diced red peppers – this sauce can take it. If I have chorizo around, I add that too, taking the dish in a more Spanish direction. What takes this dish over the top is the finishing touch – a sprinkling of crumbled feta that melts into the sauce, just begging to be scooped up with some crusty bread.
3 or 4 boneless skinless chicken thighs or 2 boneless skinless chicken breasts (use 6 – 8 thighs or 3 – 4 breasts for 4 people)
1 large onion
4 cloves garlic
1 small can crushed tomatoes
½ cup feta cheese (crumbled)
½ tsp red pepper flakes
½ tsp cinnamon
Leaves pulled from a few sprigs of fresh oregano (2 – 3 tsp) or 1 scant tsp dried oregano
few tbsp. lemon juice
olive oil
salt and pepper
optional can of chick peas
optional splash of white wine
 
Heat a couple of tbsp. of olive oil in a pan – I use my le cruset because it has a handy lid for later
Dice the chicken into bite sized pieces and pour over some lemon juice. Let the meat marinate – only about five mins – if you have time to let it sit for longer, that would be great
Dice the onion and cook in a few tbsp. of olive oil until slightly browned and tender – about 5 minutes
Once the onion has softened, grate in the garlic and toss in the heat
Add the red pepper flakes, cinnamon, oregano and tomatoes. If you have some white wine about, add a splash and deglaze the pan. If not, never mind. Fill the tomato can up about half full with water, and tip that in too. Season everything well
Once the tomatoes come up to a simmer add the chicken (pouring in the lemon marinade too), put the lid on and cook for 15 – 20 mins until cooked through. If you want, you could add a drained can of chick peas, or a few handfuls of rice at this stage – in which case, cook until the rice is cooked through – about 20 – 25 mins, and add a full can of water
Once the chicken is cooked, crumble the feta over the top, then put the lid on and let it melt for a few on a low heat (or broil/grill if that's easier). I tend to use fairly large crumbles to get chunks of melted feta rather than crumbs, but that's a matter of taste
Drizzle with a little more olive oil and serve with warm bread for dipping