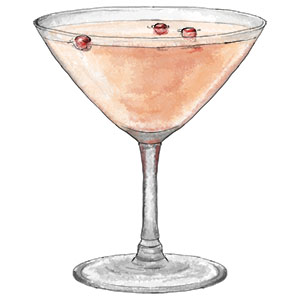 As Thanksgiving approaches it's good to have a cocktail on hand to combat any seasonal stresses. My in-laws are visiting from Scotland this year, and though ordinarily I would not find this stressful, the last parental visit we had coincided with a hurricane and a black out, so I'm morbidly expecting the worst, and stocking up on vodka just in case.
That's where the white cranberry cosmopolitan comes in handy. Sweet, delicious, (a little too) easy to drink, festive as all get up. It's exactly what you want to have on the kitchen counter as you bustle about making cranberry sauce and chopping up vegetables.
I drink mine from a martini glass to make myself feel extra sophisticated and glamorous, which is helpful if I'm covered in flour, and it's worth remembering that the frozen cranberries as ice cubes trick is helpful for fancying up any drink between now and New Year.
White Cranberry Cosmopolitan
White cranberry juice is sweeter than regular cranberry juice, which is why I use a lemon vodka. If you just have plain vodka, consider upping the lime.
1 shot of white cranberry juice
1 shot of vodka (absolut citron for preference)
½ shot of cointreau
Juice of half a lime (or less – I like mine lime-y)
 
Mix in a shaker and pour into a martini glass. Add frozen cranberries to keep the drink cold