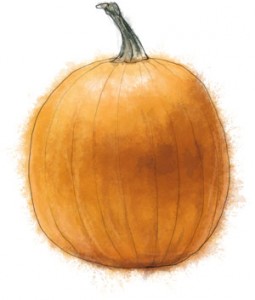 So I was going for Mad Men red hair, but as I sat in front of the mirror in the leather and essential oil themed salon sipping my cup of vanilla chai, I wasn't absolutely convinced.
"It's going to totally be Joan when it dries," said the optimistic hair stylist, holding up strands of purest orange to the mirror light.
"Are you sure it's not, well, a bit pumpkin?" I wondered.
"No way." He shook his head, causing the dreadlocked part of his Mohican to jiggle in a clatter of plastic beads.
"Nah ah. If that were a pumpkin it would be some totally hot one," he said.
Thankfully, after the application of a second round of dye, the hair turned out fine, nevertheless, in honor of impending Halloween, I figured a totally hot pumpkin soup would be the perfect Monday treat.
Spicy pumpkin soup
4 cups of peeled cubed pumpkin
(optional – 2 cups of peeled cubed butternut squash)
1 large onion
1 can of coconut milk
2 cups of stock
2 tbsp fish sauce
2 tbsp light brown sugar
1 tbsp Thai red curry paste (to taste)
1 stalk lemon grass (bruised and squished up a bit to let out the oils)
1 tbsp oil
1 lime
Dice the onion and fry with the pumpkin (and squash) in the oil until it's browned and beginning to soften
Add the red curry paste and stir to coat the vegetables
Pour in the stock, the coconut milk, the lemon grass, the sugar and the fish sauce and simmer for 20 minutes until the pumpkin (and squash) cubes are tender
Taste the broth – if you like things spicier add more curry paste or a pinch of red chili flakes. Adjust the seasoning
Puree in batches in a blender (or use a stick blender in the pan)
If you prefer a thinner soup add some more hot stock
Add a generous squirt of lime to serve (decorate with cilantro leaves if desired)