I love a good carol concert. I love to sing in one and I love to listen to one. I want descants and cheesy bell music. I want Winter Wonderland and Most Wonderful Time of the Year. But I also want carols that take me back to being a child, singing along to the tape as we drove up to Wigan in the car; O Little Town of Bethlehem, Hark the Herald Angels Sing, We Three Kings of Orient are.
I want to re-live junior choir at the Methodist church, the cold outside Kingston Station shaking buckets with the school choir, the trip up to the Albert Hall to hear the massed ranks of the hospital choirs with my grandparents, eating pear drops and chocolate coins, the official lessons and carols service with the headmaster reading St John and various male teachers bolstering the tenor and bass section with their rugby-team voices, those early advent services in the college chapel, with Past Three o'Clock sung at dinner afterwards with all the rude words.
I sang in one last night and, happily, I'm singing in one tonight. Various friends are coming to watch, get in the Christmas spirit and have a good laugh at the sight of me in a cassock.
The thing is, the concert finishes at around ten, which is too late for dinner, but far too early for the party to break up and go home. And so it's back to ours for mulled wine and white chocolate chip brownies. Never too late for that.
Mulled Wine
1 bottle of red wine
¼ cup of sugar or 3 tbsp honey
1 cup of orange juice (or freshly squeezed tangerine / clementine juice)
1 mulled wine spice sachet (which you make by bundling together 5 cloves, 1 tsp of dried orange peel, 1 star anise and a cinnamon stick in a muslin cloth – or you can drop the spices in and sieve the wine before serving to fish them out)
Bring the ingredients to a simmer, and let them simmer for 5 minutes for the flavors to infuse
Drink
For extra kick add some Cointreau (I add about 3 shots) and heat for 30 seconds or so, so that the Cointreau doesn't chill the wine too much
White Chocolate Chip Brownies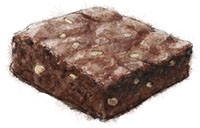 7 oz chocolate, which is usually 2 bars
1 stick of butter (4 oz)
1 ½ cups of sugar (12 oz)
2 tsp vanilla essence or espresso
4 eggs

1
½
cup flour (6 oz)
¼ tsp baking powder
¾ cup of white chocolate chips (4 oz)
Pre heat the oven to 350 (180C)
Melt the chocolate and butter in a bowl over a pan of simmering water or in the microwave
Whisk in the sugar until the mixture is fluffy
Add the vanilla or espresso and the baking powder
Stir in the eggs and flour alternately until the mixture combines
Dust the white chocolate chips with a handful of flour and mix in
Pour into a buttered 8 inch square tin (I sometimes use a foil tin because it's easier to pop the brownies out and there's no washing up)
Bake for 40 – 45 minutes
If your oven is unreliable like mine, turn the tin a few times to get more even cooking
Cool, then cut into squares
Decorate with a dusting of icing sugar, or whatever you think will make them look beautiful