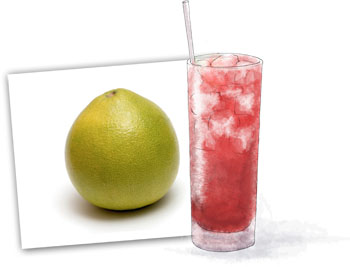 Chinese New Year is almost upon us, a fact that it is impossible to ignore if you happen to be walking down Elizabeth Street on your way to pick up cheap vegetables at the amazing Asian supermarket.
My apartment is now decorated with red hanging lanterns and a plastic tree adorned with what look like little plastic oranges (can this be right? And if so, does anyone know why?) – the result of a peek into a shop on a side street.
But the important order of the day is this; I bought a pomelo.
If you like to wander through Chinatown you've probably seen them. They look like monstrous over-sized grapefruits and are sold in the kind of bags that tangerines come in, only you get just the one pomelo.
I was looking for blood oranges to make some kind of blood orange martini, but there weren't any, so I got talked into the pomelo, and lugged it home wondering exactly what to do with it.
It turned out to taste vaguely reminiscent of grapefruit. Which started a train of thought that led to the creation of the cocktail that will surely grace my Chinese New year party on Thursday. The exotic pomelo Sea Breeze.
Pomelo Sea Breeze (makes a jug serving 6)
1 ½ cups freshly squeezed pomelo
juice (you can use 1 cup of grapefruit juice and ½ cup of orange juice if you can't find pomelos
)
3 cups cranberry juice
1 ½ cups vodka
Mix in a jug, chill in the fridge, then and serve over ice
Spicy beef lettuce wraps (serves 6 – 8)
The salty sharp tang of the meat goes perfectly with the sour/sweet note of the cocktail.
3 cups of mince (think 3 cupped hands full)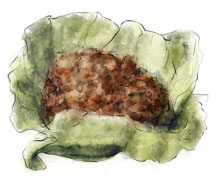 3 scallions
1 fat clove of garlic
1/2 cup soy
2 tbsp brown sugar
1 green chili (or red if you prefer things hotter)
1 tsp ground ginger
2 tbsp vegetable oil
Juice of 1 lemon
Salt and Pepper
18 lettuce leaf "cups"
Dice the onion and fry with a tsp of the vegetable oil
Add the mince and season well with salt and pepper
Once the mince starts to brown, grate in the garlic with a micro grater (or chop finely) and add, cooking for a minute. By now the mince should be cooked (about 4 mins total)
Combine the soy, sugar, fish sauce, vegetable oil, lemon, ginger and the diced chili in a bowl and stir well
Pour over the cooked mince in the pan and allow the sauce to bubble and reduce
Rip leaves off the lettuce and dump into a bowl of iced water to help them contract into cups
Serve the leafs on a platter so that guests can spoon in the spicy beef and make wraps
If You Can Make That You Can Make This