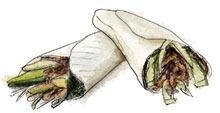 Duck pancakes are an off beat romantic meal – any finger food gets extra points in my opinion – and they start the New Year on a luxuriant culinary high note. Consider starting the meal with Pomelo Seabreezes, or lychee martinis and finish up with orange scented chocolate pots, or bowls of fresh lychees, tangerines and a bar of dark almond chocolate smashed into shards, and you have yourself a feast.
Roast duck and pancakes (serves 2)
1 whole duck – for two people you're looking for a small duck, a bit smaller than a chicken. Obviously for more people, get a bigger duck or roast 2. I either buy my ducks in China Town, or from www.culverduck.com. Their duckling is the perfect size for 2.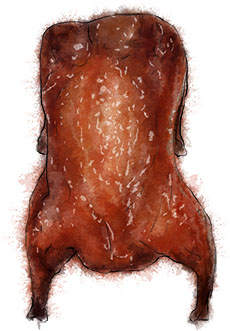 ½ a hot house cucumber
5 scallions (spring onions)
Jar of plum sauce or hosin sauce
As many packets of pancakes as you think you'll need (and a few extra for good measure)
1 tsp five spice powder
½ tsp salt
½ tsp cinnamon
Pre heat the oven to 325 (180 ish)
Pat the duck dry with paper towels and cut off the flap of fat at the neck
Rub the skin with a tsp of five spice powder, ½ a tsp of cinnamon and ½ a tsp salt
Put on a rack in a deep tray in the oven
Roast gently for 4 ½ hours
Drain some of the fat out of the tray (into a bowl to save for roast potatoes another day ideally)
Turn the oven up to 400 (220 ish) (removing the fat should stop major smoking out of the kitchen)
Put the duck back in and roast for another ½ hour to crisp up the skin a bit
Cut the cucumber into thin matchsticks, and slice up the scallions finely
Shred the duck with a couple of forks
Serve with plum sauce and a several packets of pancakes (which you can steam to warm, or microwave in the bag according to the instructions on the packet)
This recipe originally appeared along with my thoughts on the perfect birthday dinner, and why duck and pancakes is so much more than an appetizer.